Hermes Handbags are probably already on your radar if you enjoy elegant, high-end clothing and have a taste for classic style. In the heart of Dubai, one destination stands out as the ultimate haven for authentic Hermes handbags – Platinum Times. Let's delve into the luxurious experience of shopping for these coveted women's handbags at Platinum Times.
Platinum Times: Your Trusted Destination for Authentic Hermes Handbags
As one of the leading luxury retailers in Dubai, Platinum Times has earned a reputation for offering the finest and most authentic collection of Hermes Handbags. Our commitment to excellence ensures that customers receive genuine products crafted with the highest standards of craftsmanship and quality.
With a focus on customer satisfaction and an unparalleled selection of exclusive designer purses, Platinum Times has become the go-to destination for fashion enthusiasts seeking to invest in a piece of iconic luxury.
Exclusive Hermes Collection: Unveiling the Latest Arrivals and Limited Editions
Stepping into Platinum Times, you're welcomed into a world of luxury and sophistication. The boutique showcases an exclusive Hermes collection featuring the latest arrivals and rare limited-edition pieces. For those who appreciate exclusivity and unique designs, Platinum Times has something extraordinary to offer.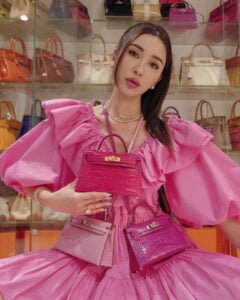 From the classic Hermes Birkin and Hermes Kelly bags to special collaborations and artistic renditions, the collection at stores is a treasure trove of Hermes handbags that cater to every taste and style. So, if you are looking to buy Hermes handbags in Dubai that are authentic and priced affordably, we are you people to trust!
Embrace the Iconic: Exploring Platinum Times' Range of Hermes Birkin Bags
The Hermes Birkin bag, an epitome of luxury and craftsmanship, needs no introduction. At Platinum Times, you can explore an exquisite range of Birkin bags, each carefully crafted to perfection. From timeless neutrals to vibrant pops of color, these iconic handbags symbolize refined taste and elegance. Even if your favorite model is nowhere to be found, we bet you have a high chance of finding it in our store.
The Enchanting Hermes Kelly Collection: Timeless Beauty at Your Fingertips
Named after the iconic actress Grace Kelly, the Hermes Kelly bag is another beloved classic offered at Platinum Times. Known for its structured silhouette and sophisticated design, the Kelly bag exudes timeless beauty and charm. At Platinum Times, you can immerse yourself in the allure of the Kelly collection, available in an array of luxurious leathers and enchanting colors.
Embodying Elegance: Discovering Platinum Times' Assortment of Hermes Clutches
Hermes clutches are the perfect choice for those seeking a touch of elegance and sophistication for their evening looks. Platinum Times showcases a curated assortment of Hermes clutches, ranging from the classic Evelyne to the sleek Constance and Jige clutches. These pieces embody luxury and refinement, adding a touch of glamour to any occasion. Hold them in the hand or drop them across the shoulder, these brand clutches are the ultimate luxury fashion accessories that every woman wants!
Expert Guidance: Choosing the Perfect Hermes Handbag with Platinum Times' Assistance
At Platinum Times, the team of luxury experts is dedicated to providing personalized assistance to customers. They understand that choosing the perfect Hermes handbag is a significant decision, and they are there to guide you through the process.
Whether you're a seasoned collector or a first-time buyer, the knowledgeable staff at Platinum Times will help you explore the different options, understand the nuances of each design, and make an informed decision that aligns with your preferences.
A Luxurious Journey: The Unforgettable Shopping Experience at Platinum Times
Shopping for Hermes Handbags at Platinum Times is not just a transaction; it's an indulgent experience. From the moment you enter the boutique, you are greeted with attentive service, a luxurious ambiance, and a vast selection of exquisite handbags.
The attentive staff takes the time to understand your preferences and desires, ensuring that every customer leaves with a handbag and a cherished fashion investment that will be treasured for years to come.
Conclusion
For those seeking an unparalleled shopping experience and the epitome of luxury fashion, Platinum Times is the ultimate destination for authentic Hermes Handbags in Dubai. Their exclusive collection caters to the most discerning fashion enthusiasts, from the iconic Birkin and Kelly bags to a wide range of clutches and limited-edition pieces.
Embrace the luxurious journey of shopping for Hermes Handbags at Platinum Times and discover the allure of timeless elegance and opulence that only Hermes can deliver.
CTA: Experience the epitome of luxury and sophistication at Platinum Times, where authenticity, craftsmanship, and personalized service unite to create an unforgettable shopping experience for Hermes handbags. Embrace the charm of iconic designs and rare pieces, elevating your style with the timeless allure of Hermes. Trust Platinum Times as your go-to destination for genuine and exquisite luxury handbags in Dubai.