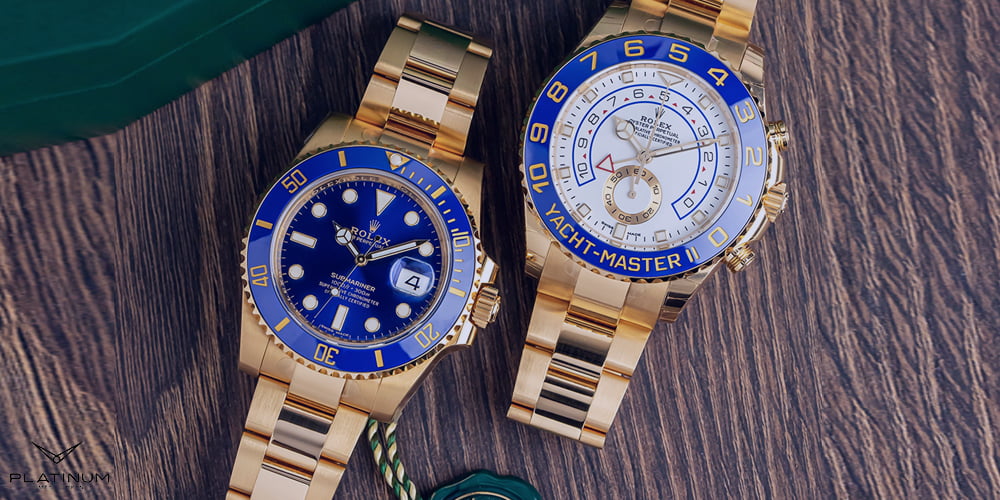 The British founded Rolex Watch Co. Ltd was founded in the year 1905. It was officially registered in the year of 1915 with its original name. Since then, Rolex has been creating luxury watches, and as the year passed by, it became an expensive brand watch company.
The Rolex Watches are designed especially with the expertise of professional watchmakers. With thousands of professional and dedicated watch designers, they have been designing and manufacturing perfectly assembled timepieces.
If you are looking for high-end brand watches to purchase, then the best option is to get the original Rolex watches. Thinking about buying a brand watch is very expensive, but another suitable option to purchase brand watches is to get the pre-owned Rolex Watches. You can purchase 2nd hand Rolex watches for sale from PlatinumTimes Company at affordable prices.
Are Rolex men's Watches available at low prices in Dubai?
The Rolex Watch Co. Ltd. Is the leading watchmaking manufacturer of beautiful and elegant wristwatches. The Rolex brand was the first brand in the world that created the first waterproof watch in the year of 1926. The brand has introduced lots of luxury timepiece collections, including Rolex watches for men and Rolex watches for women for every type of occasion.
If you are in Dubai and looking to buy high-end watches, brand watches for yourself, or to gift your relatives a special occasion. Then you can find Rolex for sale watches in Dubai at the cheapest cost by Platinum Times Company. They are the most trusted pre-owned retailer and supplier of luxury brand watches in Dubai or anywhere in the world.
Platinum Times Company has more than 60 luxury used brands timepieces available on their website, like Rolex oyster perpetual at used Rolexes for sale. You can get the most attractive and stylish watches for both men and women suitable for your needs.
Popular Men's Rolex watches at affordable prices in Dubai.
Platinum Times Company has many Rolexes for sale available at affordable prices, which you can easily purchase in Dubai, UAE, or worldwide in any other specific country. The main thing that makes it easy for everyone to buy luxury brand watches at ease with a lot of options and at competitive prices for everyone. We are reviewing some of the most incredible timepieces available on our website,
1. Rolex Cosmograph Daytona Watch: A passion for Speed
Rolex Cosmograph Daytona Watch was specially designed for people who have a deep passion for racing drivers. There are a total of three different types of versions available for the Rolex Daytona Watch with various colors at Platinum Times Company. It was introduced in the year of 1963 with features that fulfill the demands of drivers who like to race.
Rolex Cosmograph Daytona Watch is known as the highest-performing sports watch because it has been created with the functions to give high performance. It has been more than 50 years since its creation, but the most known Rolex Sport Watch still has a different class and beautiful look. At platinum Times Company, you can get this watch in Dubai's $20,000 to $163,000 price range.
2. The Rolex Yacht-Master: The Watch of the Open Seas
The highly famous watch among desperate watch collectors is the Rolex Yacht-Master. This watch has the title from the company "The Watch of the Open Seas." You can get this beautifully designed watch that has a smart, elegant and luxurious look from the collection of Rolex watches for sale at a maximum price range of $12000 to $54,000 in Dubai by Platinum Times Company. This watch is available in many different dials, but the highest in demand are white or black dialed models.
3. Rolex Datejust – Archetype of the Classic Watch
The most timeless style of all the watches is Rolex Datejust, and it has the most pleasing, elegant, and royal aesthetics. This watch series has been designed to bring clarity and charm to the personality with an instantly recognizable design symbolizing a luxury lifestyle. You can get this smart and elegant timepiece in pre-owned condition from the most trusted Platinum Times Company at a price range of a maximum of $5,000 to $25,000.
4. Rolex GMT Master II: The Cosmopolitan Watch
Rolex GMB master II watch is the best-known top pick among watch enthusiasts. This watch is designed with Swiss precision and elegant design, which gives it a classic look. There are multiple models available with slight differences in the watch market, and you can find them in the best condition at Platinum Times Company from prices ranging from $10,000 to $38,000 in Dubai. If you are looking to purchase a timepiece from history, then this is the best choice to purchase without any doubt.
5. Rolex Submariner Date: A True Divers' Watch
It takes something special to become a Diver and find a watch that will be going to fulfill your needs as a diver. Rolex made it a reality by creating this Rolex Submariner Date Watch, which might be Divers' dream. This watch is a combination of white numerals along with a white dial, and it is a waterproof watch specially designed for divers. Rolex submariner price is from around $11,000 to AED 25,000 in the pre-owned watch market, where many people buy and sell Rolex watches.
Get Rolex men's Luxury Watches at affordable prices in Dubai

Every watch pre-owned market has a lot of differences in pricing, but PlatinumTimes helps you find the most luxury branded watches in good condition at affordable prices. We have the most luxurious collection of watches, including Rolex explorer, Rolex day date, Rolex oyster perpetual datejust, Rolex yacht master, and Rolex explorer 2. You can also buy and sell luxury watches from your old collection with PlatinumTimes. So don't wait, and visit our website Now!
If you want to know more about the watch you're seeing, our customer service team is always ready to answer any questions you have!
So what are you waiting for? Head over to our site today and choose your luxury watch now!
A Look At Men & Women's High-Quality Rolex Luxury Watches At Platinumtimes