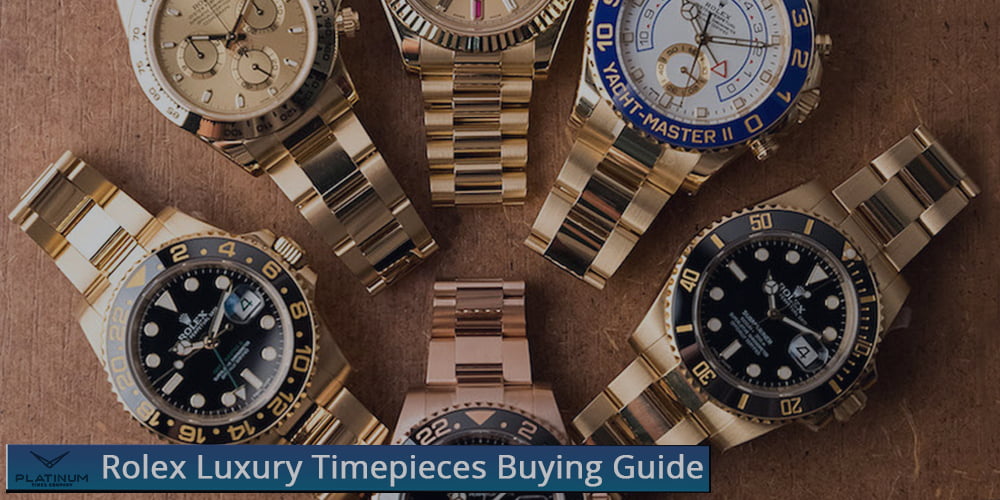 If you're the kind of person who loves the finer things in life, it's time to get yourself a Rolex Luxury watch. Rolex is the leading company for creating the best luxury watches in the world, and they have been creating the most beautiful luxury timepieces for years. Rolex has the biggest presence in creating sports watches to casual or smart luxurious watches for men and women.
Platinum times is proud to be the most trusted and well-known retailer of men's and women's 2nd hand Rolex watches for sale. Platinum Times Company is a retailer that buys and sells luxury watches from almost every big brand in the world. If your heart stops beating over a second-hand Rolex, then don't forget that PlatinumTimes has an amazing collection of pre-owned high-end watches.
Let's take a look at the prestige of this highly-respected luxury watches brand Rolex. The more you know about the brand, the easier it will be for you to choose the best fit for yourself.
A Brief History Of Rolex Luxury Watch Brand
The company Rolex SA was founded in the year of 1905, and it was generally known as Wilsdorf and David by Hans Wilsdorf and Alfred Davis in London. It is a British-founded swiss watch designer company and manufacturing is based in Geneva, Switzerland. The company's name was registered in 1915 and became Rolex Watch Co. Ltd.
Rolex is now known as the most recognizable watchmaker in the world because of its wide range and huge collection of high-end brand watches. Up till now, they have created countless timepieces which serve their purpose specifically for every industry.
Some of their watches are really well known and favorites for the collectors, such as the Rolex Submariner, Rolex Daytona, Rolex Datejust, Rolex Oyster Perpetual, Rolex Explorer, Rolex Day Date, and many more.
The Ultimate Guide to Buy Luxury Rolex Watches 

As the leading brand, Rolex has been manufacturing high-end watches for decades. There is no doubt that Rolex is a huge brand for the extraordinary watches of all time, and buying Rolex watches is the best investment ever.
However, buying the desired Rolex watch is not as easy as it sounds. There is an intentional shortage of the few models—the one who gained a huge demand from the public worldwide. These watches are Rolex Oyster Perpetual Datejust, Rolex Yacht Master, Rolex Explorer 2, and Rolex GMT Master II.
 But, you don't have to worry about it anymore! With Platinum Times Company's help, it is now possible to buy pre-owned Rolex watches at affordable prices and in excellent condition. Here are the key factors you must know before buying any Rolex expensive brand watch.
1. Check the availability of your desired Rolex watch
It is expected that most of the time, the desired watch people are looking to purchase is not available in the watch market. In such case, you can look for Rolex watches for sale with better options. At PlatinumTimes Company, you can get pre-owned luxury watches in outstanding condition at reasonable prices.
For some people, purchasing a brand new watch might not be possible, so buying the Rolexes for sale is also a great option. The Platinum Times company offers a wide range of luxury watches at competitive prices, so anyone who wants to feel the luxury can buy these watches!
2. Get your name listed on the waitlist for Rolex Watches
Many retailers or suppliers of luxury brand watches offer to buy and sell Rolex watches by assigning your name to the waitlist. The waitlist basically works in that you ask to be added to a list where many other people already counted to wait and are notified for their desired watch. And you have to wait for your turn!
Why Are Rolex Watches so expensive to purchase?
There are many things and hard work involved by the brand to design specific, beautiful and elegant timepieces for the people. There are highly professional staff and  particularly special departments that manage the manufacturing system.
Moreover, the materials that Rolex uses in creating such luxury timepieces or highly expert designers are required to design a great piece or many more tools are involved for introducing such a marvelous timepiece. In the making of the watch, there is hand work, machine work, and other things. That might be a reason for purchasing a great watch.
Buy your next Rolex from PlatinumTimes – an elegant piece of craftsmanship that will become a treasure.
If you are looking for a reliable, affordable, and elegant Rolex watch for women or men, you have come to the right place. The PlatinumTimes Company is the best place to buy and sell luxury watches. We are here to help you find your desired watches at reasonable pricing. We are the most trusted retailer to buy and sell Rolex watches in Dubai.
Visit the PlatinumTimes website to get your favorite Rolex Submariner price at our watch sales Rolex. Hurry up before it's too late!
If you want to know more about the watch you're seeing, our customer service team is always ready to answer any questions you have!
So what are you waiting for? Head over to our site today and choose your luxury brand watch now!
A Look At Men & Women's High-Quality Rolex Luxury Watches At Platinumtimes