Our Guide to Models For Buying High-End Brand Watches
As a model, your appearance is everything. From the accessories you choose to the clothing you wear; everything reflects your taste and style.
One accessory that talks about your personality like no other is a luxury watch and when it comes to purchasing one there are several things to consider regardless of whether you're a man or a woman. In this guide, we'll discuss some of the most important things to keep in mind when shopping for luxury timepieces.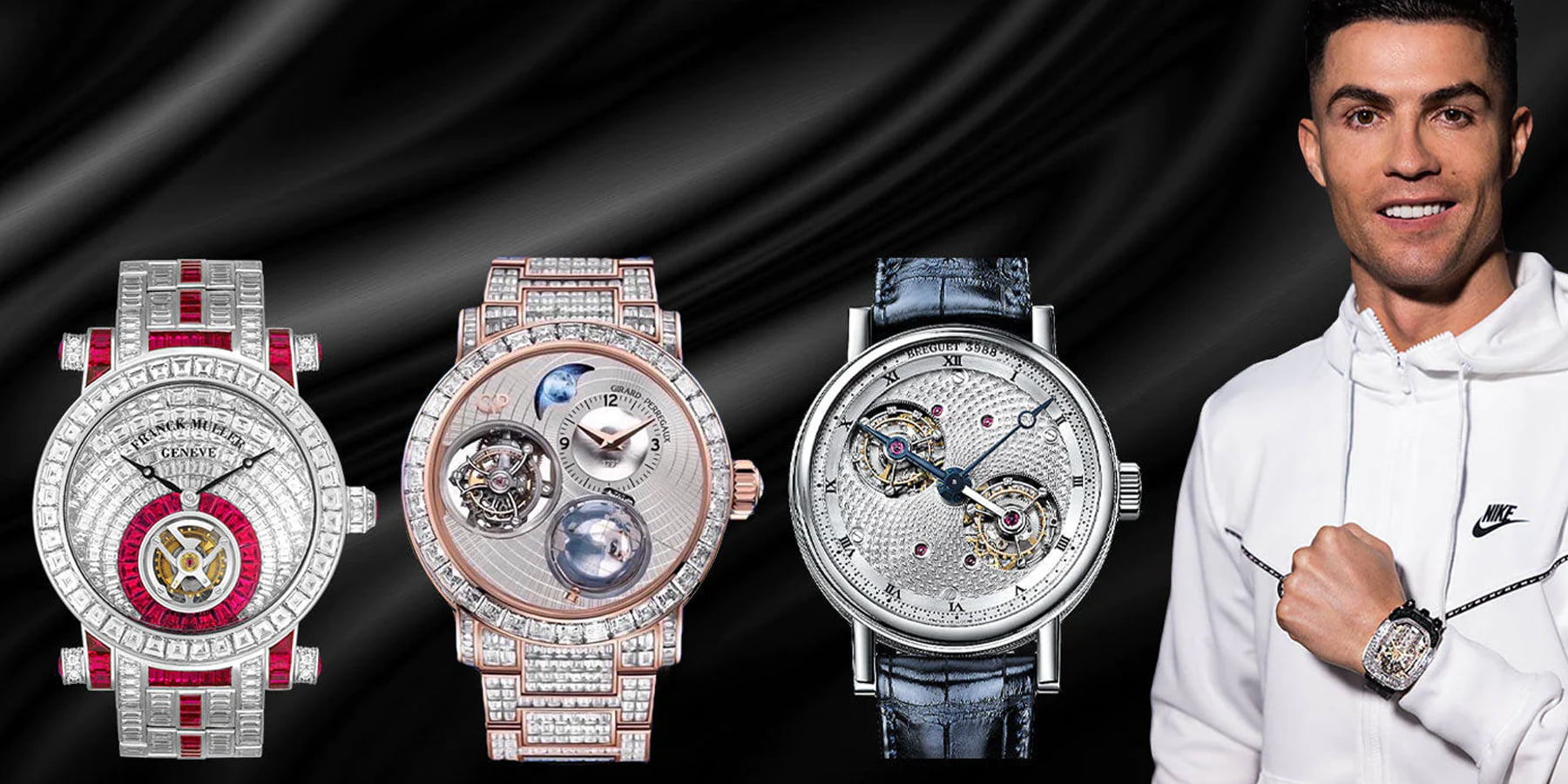 Consider your budget: Before you start your search, it's important to determine your budget. Luxury watches range between thousands of dollars and hundreds of thousands of dollars, that's why it is always recommended to consider budget beforehand. Not to mention, luxury watches come at lower prices as well depending upon the brand, material used, and features being offered, so don't feel like you have to break the bank to buy a high-end watch.
Consider features: The luxury watches for men come with various features such as perpetual calendars, moon phases, chronographs, etc. Determine which features you want and then choose a timepiece accordingly. Keep in mind that some features increase the price of a wristwatch, so make sure to consider these while deciding on your budget.
Search several brands: Once the budget is finalized and the features are decided, it's time to start searching for different brands. While searching, take into consideration factors such as the brand's reputation, history, designs, etc. Look at the different models available from each brand and think about which one would best fit your style.
Try on different luxury watches: When buying an expensive watch, it's important to try on different pieces to check how they feel on your wrist. The majority of the luxury watch sellers have their flagship stores in Dubai, where you can try on these watches and get a sense of their size and weight.
Determine the watch's resale value: When purchasing, it's important to consider the resale value of a luxury watch as it's also a type of investment. Search for models that are in demand and hold their value. In this way, you can sell the watch later on to upgrade or change your collection.
Buy from a reputable watch seller: Last but not least, when it comes to purchasing luxury watches in Dubai, always buy from a reputable seller. Find dealers having a long history in the industry and who are authorized for the brands you are interested in. This will save you from all sorts of scams existing in the luxury market.
This concludes our guide to models looking to purchase luxury watches in Dubai. For more information and details, feel free to contact us.
TOP 10 HIGH-END BRAND WATCHES IN DUBAI FOR MALE AND FEMALE MODELS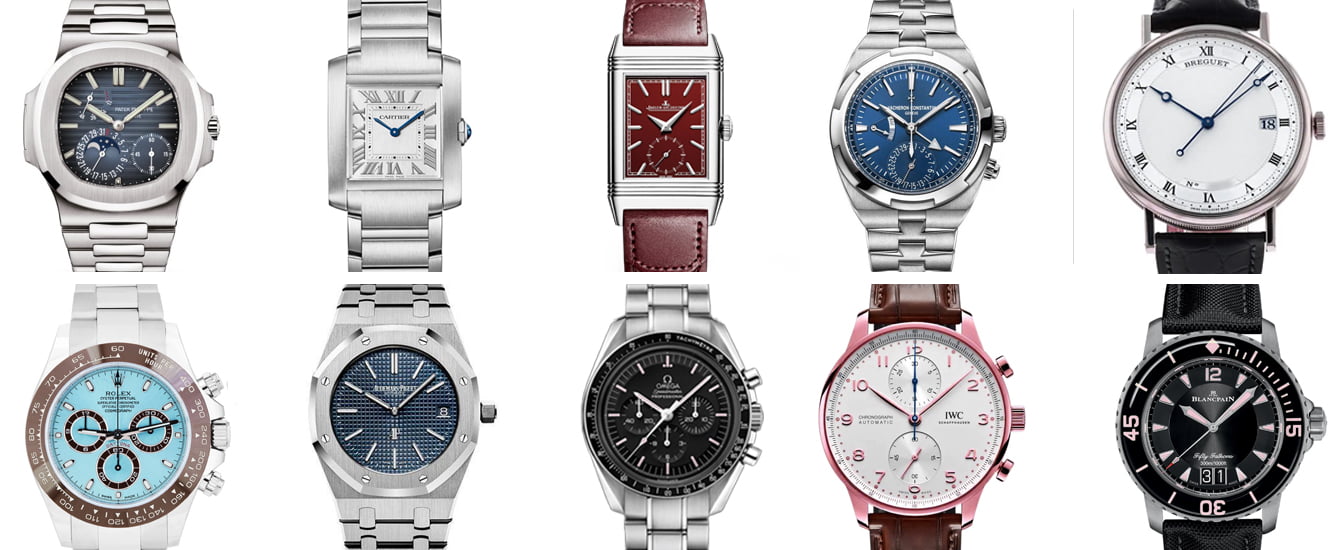 Dubai is well-known for its luxury shopping experience, and when it's about high-end timepieces, the Emirate has plenty to offer. In this article, we have shortlisted the top ten luxury watches available in Dubai, suitable for both male and female models. Let's take a look at them:
1. Daytona by Rolex
With its timeless design and impeccable craftsmanship, this masterpiece by Rolex is an ideal option for both men and women.
2. Nautilus by Patek Philippe
Nautilus is a famous luxury model by Patek Philippe, recognized for its octagonal shape and exceptional quality.
3. Royal Oak by Audemars Piguet
Royal Oak is another famous luxury watch in the world, known for its distinctive design and outstanding performance.
4. Tank by Cartier
Tank is one of the few watches that have remained popular since its launch. It's been in fashion for decades and is ideal for the ones who adore simple yet elegant styles.
5. Speedmaster by Omega
The Omega Speedmaster is a legendary watch, renowned for its role in the Apollo moon mission and exceptional durability.
6. Reverso by Jaeger-LeCoultre
With its unique reversible case, Reverso has been winning people's hearts since the 1930s.
7. Portugieser by IWC
The Portugeiser is one of the oldest and best-known watches by IWC. The manufacturer takes pride in its excellent accuracy and reliability. For those searching for sophisticated luxury watches for sale in Dubai, this model by IWC is sure to go for.
8. Overseas by Vacheron Constantin
Launched in 1977, Overseas by Vacheron Constantin is ideal for those looking for something that goes well with both casual and formal attires. For water resistance property, exceptional quality, and craftsmanship, do consider Overseas, you will not regret your decision.
9. Classique by Breguet
It's a luxurious watch and a great choice for those looking for a traditional touch, exquisite detailing, and mechanical precision.
10. Fifty Fathoms by Blancpain
The Fifty Fathoms luxury watch by Blancpain features water resistance and rugged durability, making it an ideal choice for divers.  
Conclusion: Dubai offers a wide range of luxury timepieces suitable for both male and female models. By picking one of the top 10 watches on this list, you can be assured of exceptional quality and craftsmanship that will last a lifetime.