Platinum Times- the place for insight and information you need to make an informed transaction.
We understand that purchasing a watch can be a significant commitment, and the multitude of options and factors to consider can be overwhelming, especially for beginners. Even seasoned watch collectors often find themselves needing to conduct research before deciding. It would undoubtedly be helpful to have all the essential information presented clearly in one convenient location.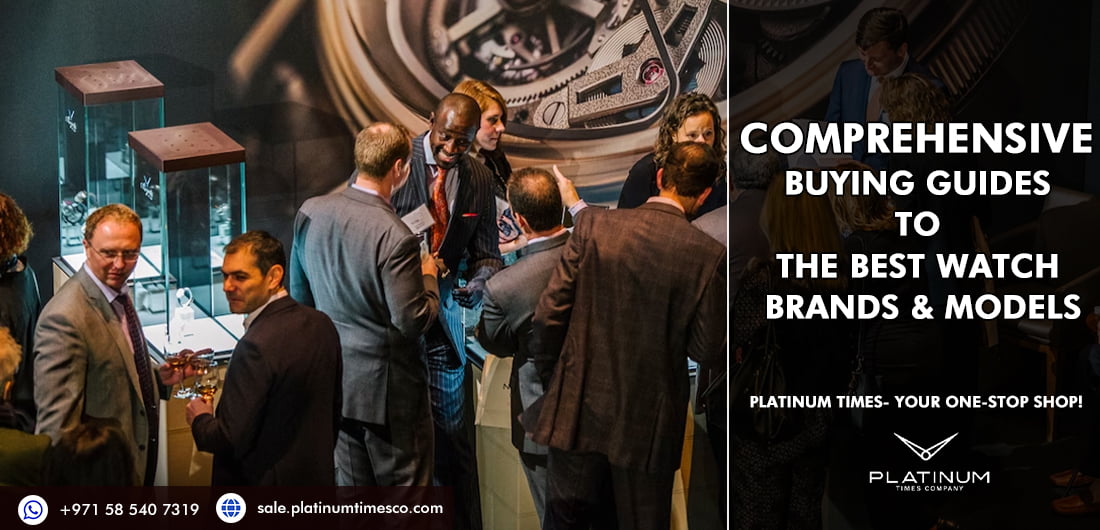 That's precisely why we're here. We have meticulously analyzed the catalogs of numerous watch brands, ranging from esteemed names like Rolex and Patek Philippe to more affordable options such as Tudor. Our goal is to provide you with easily understandable yet comprehensive buying guides. These guides not only offer the necessary information and context to aid your decision-making process but also incorporate insights from experienced watch collectors.
Everything you need to know to purchase Rolex watches.
➢ What Are Rolex Watches Made of?
With in-house production of materials, nearly all Rolex timepieces are produced from just ten materials.
Oyster steel: It is used for the high polish of precious metals and resistance against corrosion.
Everose Gold 18k: By adding copper and silver to its formula, Rolex achieves its uniquely warm rose gold.
RLX Titanium: Rolex uses titanium alloy of grade 5, which the manufacturer says has been selected specially and needs specially dedicated production processes.
Yellow Gold 18k: It's a commercial and trusted alloy with an iconic hue.
Platinum: Some of the Rolex timepieces also feature 950 platinum. It's a high-concentration alloy that involves ruthenium for shine and strength.
White Gold 18k: Rolex's white gold seems to radiate light.
Rolesor: Not a material itself but a patented technology in which Rolex combines its Oyster steel and gold for its two-toned models.
Cerachrom: This material is UV resistant, scratch proof, and is the current standard for the bezel inserts on Rolex's sports watches.
Precious stones: Rolex uses a range of unique stones in its watches but one of the most common are diamonds.
Chromalight: It's material of Rolex that appears blue at night and white in the day. 
➢ Rolex Clasps
1. Crown lock/ Crown clasp: It's a sophisticated and elegant-looking locking mechanism that disappears once secured.
2. Oyster lock/ Oyster clasp: It is one of the most popular locking mechanisms of Rolex. The oyster lock comprises a secondary locking mechanism that folds over the main clasp.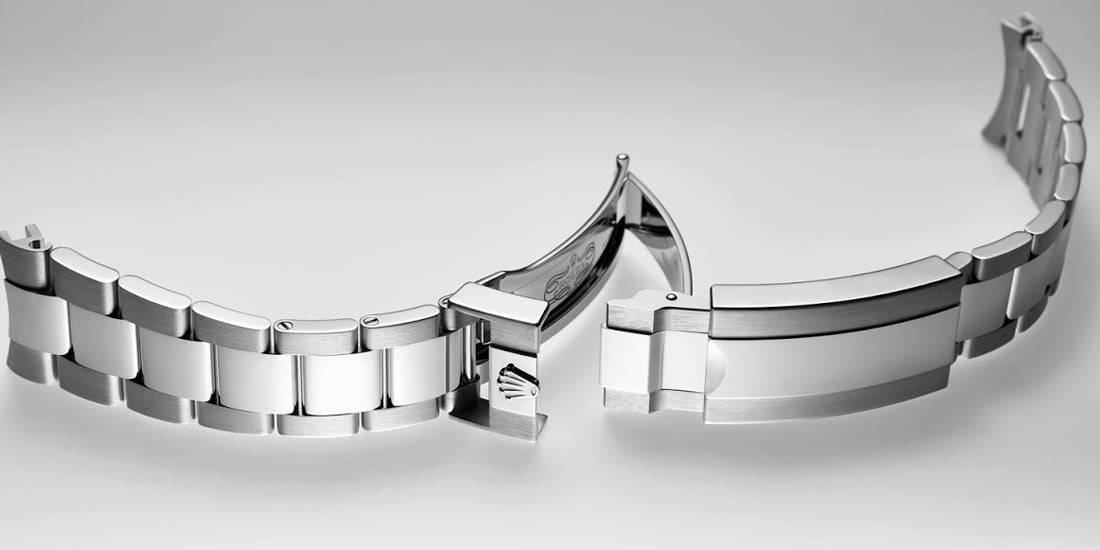 3. Rolex Clasp Expanders
 I. Easylink: It allows the wearer to expand their bracelets by 5mm, it's quite useful when swelling occurs on an airplane or perhaps after a big meal.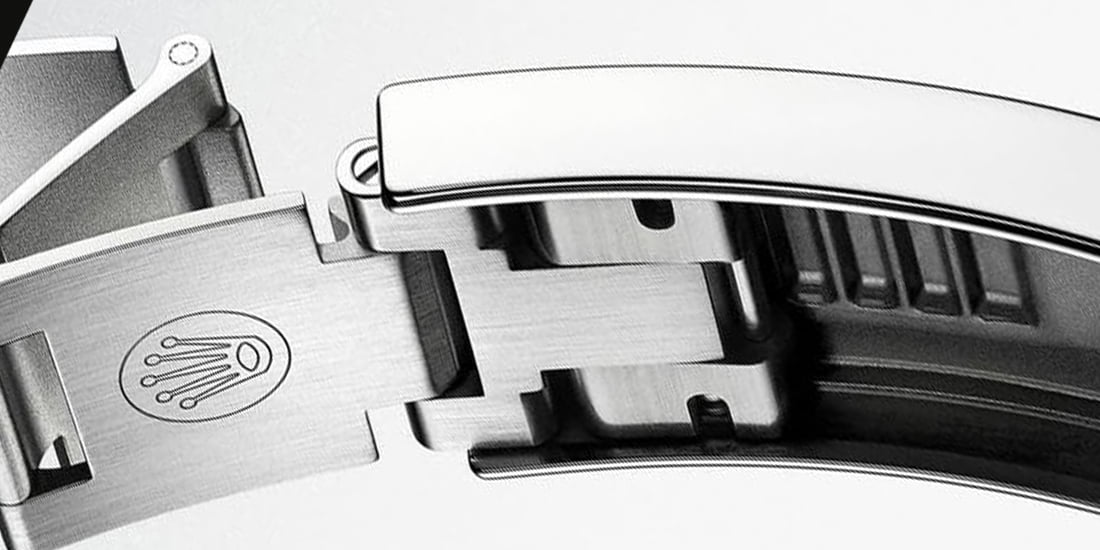 II. Glide lock: It's a patented bracelet extension mechanism of Rolex that allows around 20mm of adjustment in 2mm increments for use over wet suits.

➢ Rolex Bracelets
1. Oyster bracelet: The oyster bracelet is a larger 3-piece link that gives a simpler and sportier look. This type of bracelet only comes with Oyster lock clasps.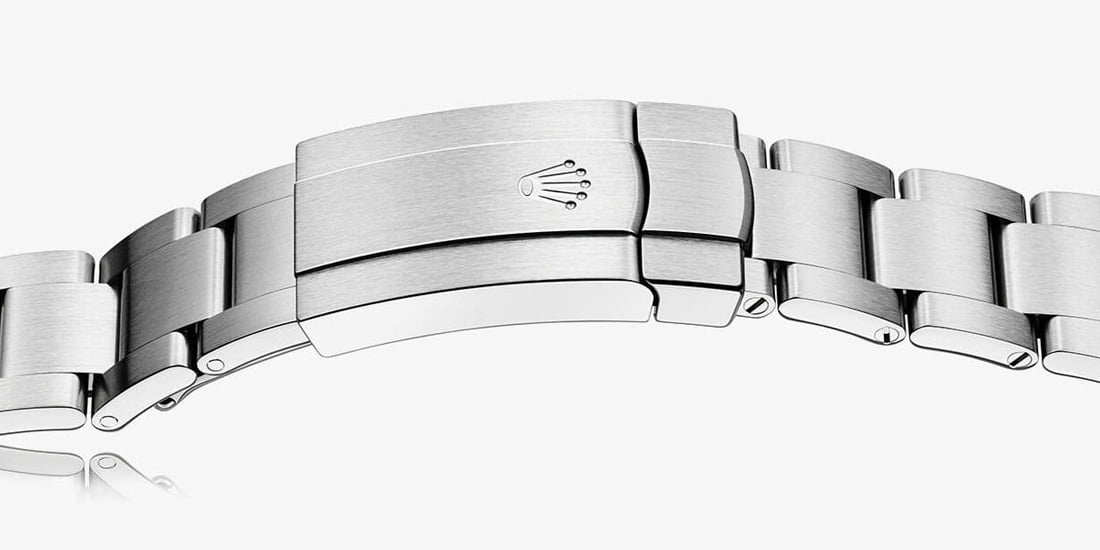 2. Jubilee Bracelet: Jubilee is a 5-piece link with a smart look. It's offered with various metals along with three Rolesor combinations and can be fitted with either a Crown lock or an Oyster lock clasp.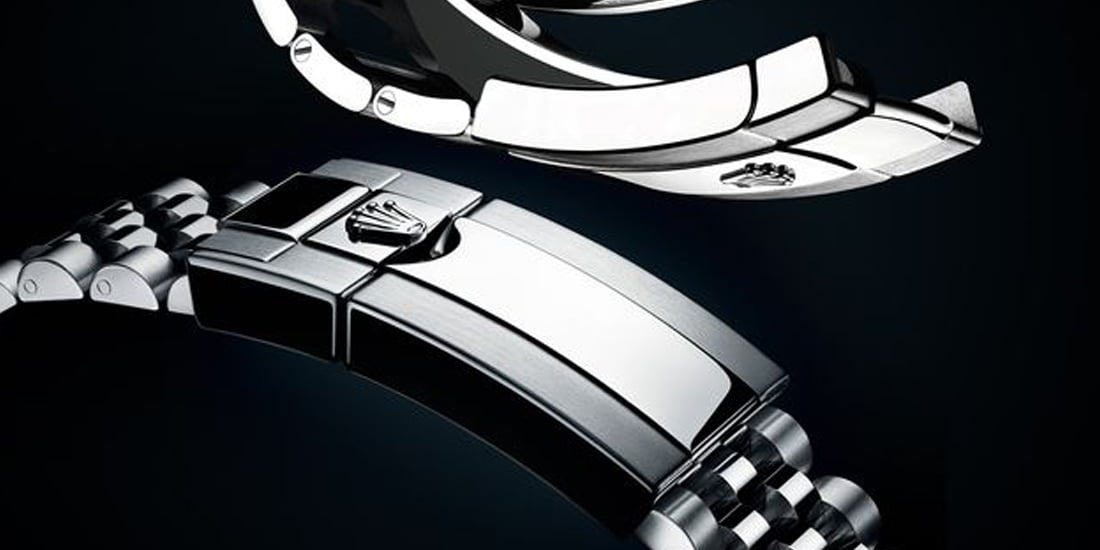 3. President Bracelet: Not so common, this type of bracelet features an elegantly rounded 3-piece link and can be only fitted with a Crown lock clasp.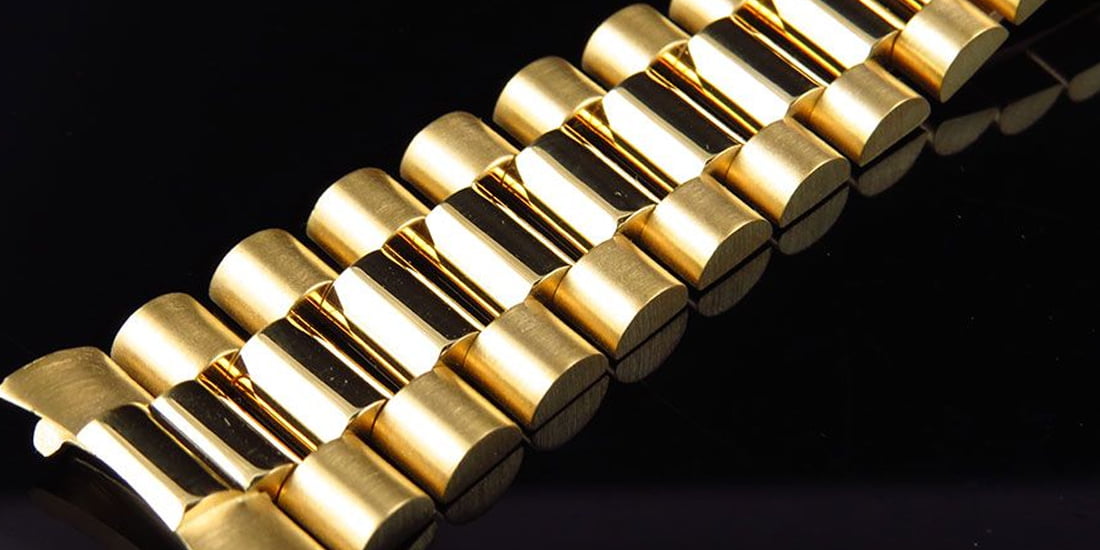 4. Pearlmaster Bracelet: It's the most elegant bracelet of Rolex with a 5-piece link. So far, the Pearlmaster bracelet only comes with a Crown lock clasp.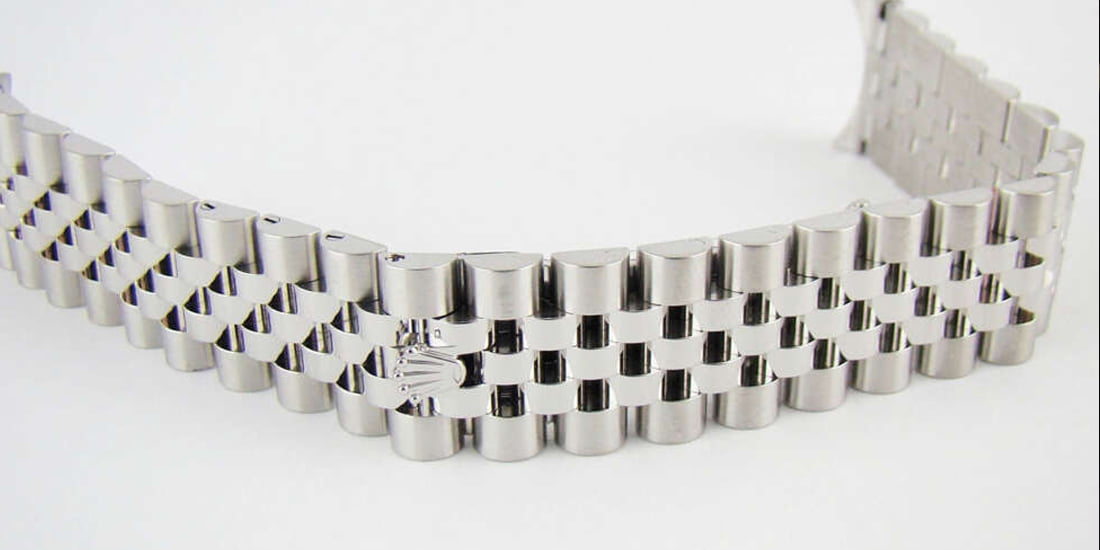 5. The Rolex Oysterflex rubber bracelet: It's the attention to detail, style, comfort, and suppleness of this bracelet that makes it more appealing. This bracelet comes with an Oyster lock clasp.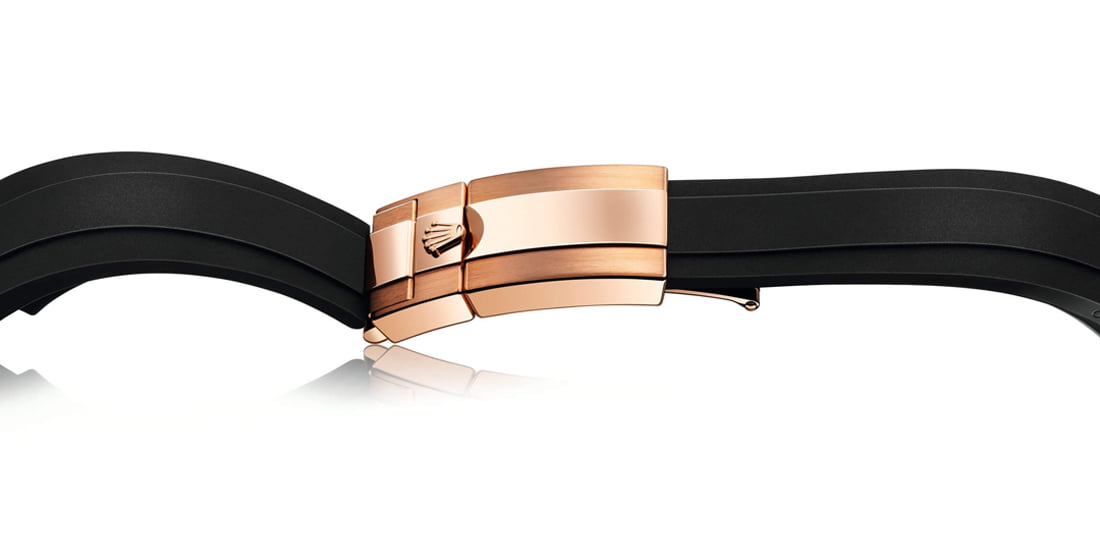 6. Leather bracelet: Rolex's in-house leather straps come in a range of colors and are fitted with simple pink buckle or Oyster lock clasps.

➢ Rolex Bezels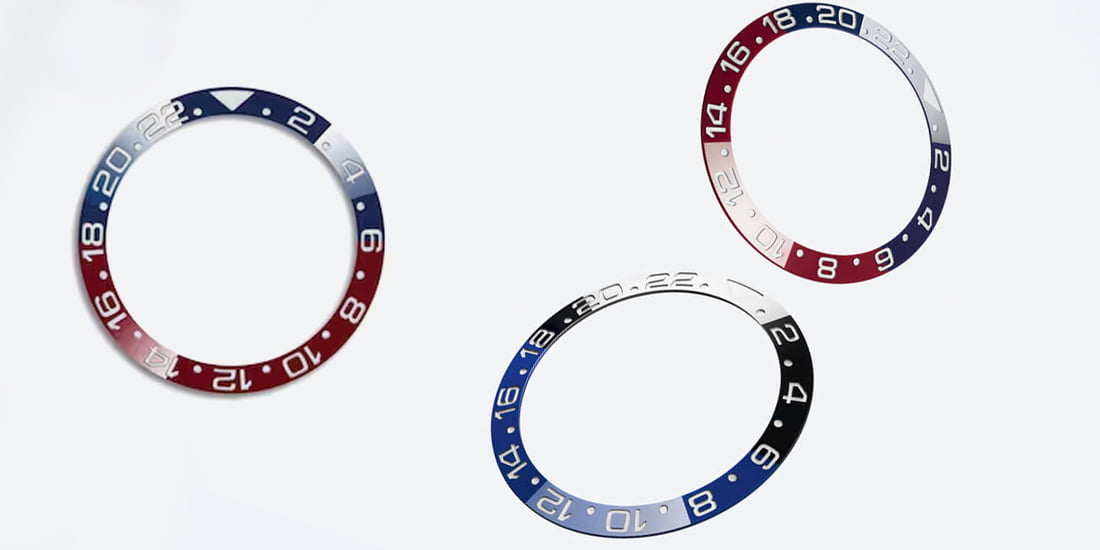 Rolex uses the following types of bezels in its luxury watches. Let's take a look at them:
1. Plain Bezels: It is the most basic one which is offered in steel and precious metals only.
2. Engraved fixed Bezels: In this type of bezel, the demarcations are engraved into either precious metal, Oyster steel, or Cerachrom. Engraved fixed bezels can be found on the Daytona Cosmo graph or Explorer II models by Rolex.
3. Fluted Precious Metals Bezels: Iconic and hard to miss, Fluted bezels come in precious metals only.
4. Rotating bezels with inserts: The scratch-proof Cerachrom inserts are quite common and give the luxury watch a professional look.
5. Rotating precious metal bezels: Ideal for yacht masters, these deeply engrave bezels offer a great combination of elegance and spottiness.
6. Bejeweled bezels: These types of bezels are encrusted with precious stones, multi-color in usual.
 ➢ Modern Rolex Movements
You can get by only knowing about Rolex's 3000-series auto-winding mechanical movements and a few smaller 2000-series versions. Beyond that, relevant movements only really include Sky-Dweller's Ref. 9001 and Daytona's Ref. 4130.
1. 3255: The 3255 movement was unveiled in 2015 and is expected to serve as the foundation for a significant portion of Rolex's future watch movements. According to the manufacturer, the advanced technologies incorporated in the 3255 movements are likely to surpass the accuracy standards set by COSC, Switzerland's official accuracy testing program. Role confidently asserts that the 3255 movement easily achieves twice the precision of +6/-4 seconds per day, as stipulated by COSC.
2. 3135: The 3135 movement, which has undergone only minor modifications since 1988, continues to serve as the fundamental structure for the majority of contemporary Rolex movements. It retains the classic Rolex feature of an instantaneous date change precisely at midnight. The 3135 movement acts as the foundation for various iterations and adaptations within the Rolex lineup.
3. 3155: As for the 3155 movements, it includes the additional complication of displaying both the day and date on the watch dial.
4. 3130: The 3130 movement, on the other hand, does not feature a date function, focusing solely on timekeeping.
5. 3131: The 3131 movement incorporates an anti-magnetic shield to enhance its resistance to magnetic interference.
6. 3132: Similarly, the 3132 movement omits the date feature and integrates the Paraflex anti-shock system for improved shock absorption.
7. 2235 & 2236: Moving on to the 2235 movement, it is designed to be smaller in size and includes a date display. The 2236 movement, an updated version of 2235, features an enhanced hairspring.
8. 2230: The 2230 movement is also smaller in size and does not incorporate a date function.
9. 7140: The 7140 movement stands out among Rolex's collection as the sole movement to include a small seconds subdial. This feature is specifically found in the watches of the 1908 collection.
10. 3186 & 3187: As for the 3186 movements, it serves as Rolex's 24-hour GMT movement. It allows for tracking time in different time zones, and its successor, the 3187, incorporates the Paraflex anti-shock system for enhanced durability.
11. 9001: The 9001 movement represents Rolex's most intricate and complex movement. It is exclusively found in Sky-Dweller watches and offers the functionality of two time zones and an annual calendar.
12. 4131: Finally, regarding the 4131 movements, it is designed specifically for the Daytona watches and does not include a date feature. Instead, it focuses on providing precise timekeeping for chronograph functions.
➢ Rolex Models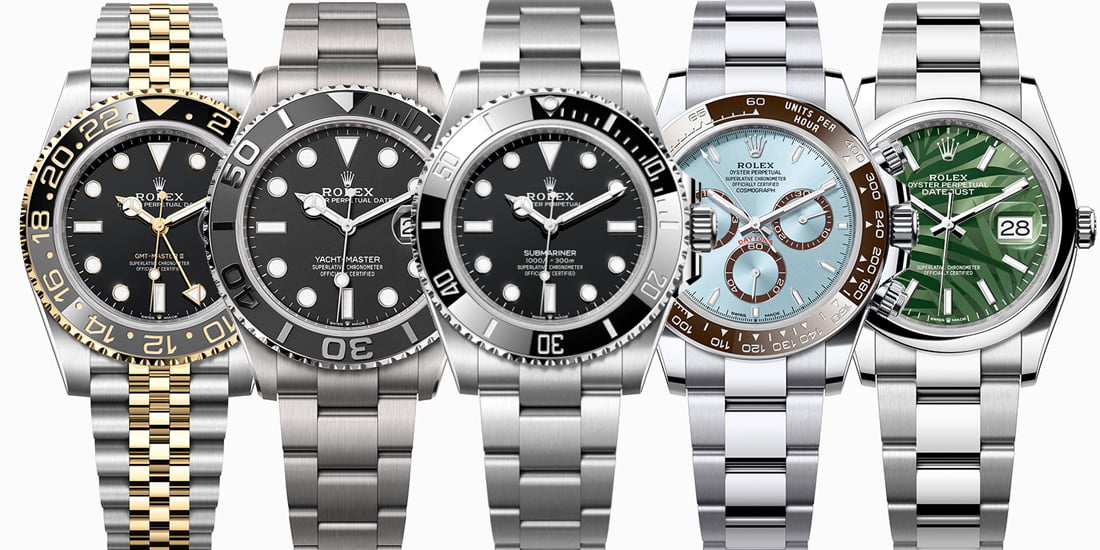 Rolex watches are divided into three categories, namely:
Oyster Perpetual Professional.
Oyster Perpetual Classic.
Perpetual.
➢ Rolex's best-selling timepieces:
Submariner.

Daytona.

GMT-Master II 'Pepsi'.

Datejust.

Day-Date.

Yacht-Master.

Air-King.

Oyster Perpetual.

Milgauss.

Sea-Dweller.
This concludes our guide for Rolex watches. For more queries regarding the brand's models, feel free to contact us. We would love to hear from you!
Everything you need to know to purchase Omega luxury watches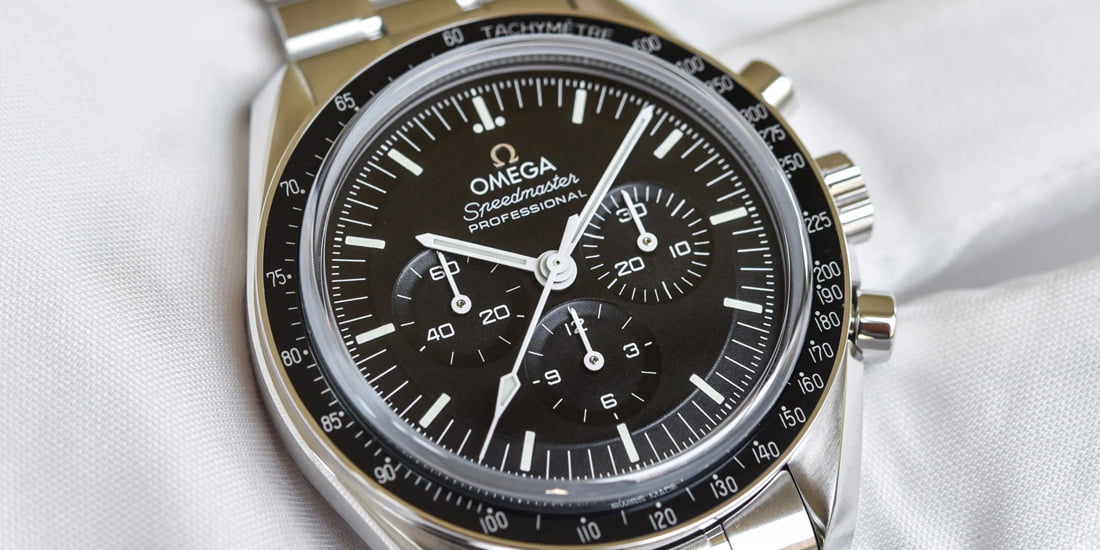 Unveiling the extensive collection from a leading watchmaker, exploring the range of timepieces, including Seamaster, Speedmaster, and beyond.
➢ About Omega Watch Movements
Omega has employed both external movements, specifically calibers derived from third-party movements, that were frequently adjusted or embellished, as well as their in-house calibers. In fact, the renowned Speedmaster calibers were essentially derived from the Lemania movements. Irrespective of their sources, Omega calibers are widely recognized by watchmakers as being well-crafted, long-lasting, and stylish.
➢ About Omega Lineup
Platinum Times introduces a handy reference guide for the essential Omega collection, designed to acquaint you with the diverse Omega selection and direct you toward standout timepieces that epitomize the brand's finest offerings. While we haven't included every single available model for the sake of clarity and conciseness, this guide serves as an excellent starting point.
The Speedmasters
Initially crafted for the world of motorsports and frequently referred to as the horological equivalent of the iconic Porsche 911, the Speedmaster acquired its prestigious title of "The Moonwatch" when Buzz Aldrin proudly wore his trusted ST105.012 reference while setting foot on the lunar landscape in 1969. Presently, the Speedmaster collection encompasses a wide array of designs and dimensions, ranging from historically faithful recreations to opulent variations embellished with diamonds and crafted from solid gold, as well as cutting-edge models featuring lightweight carbon components. Here, we highlight five noteworthy Speedmasters that deserve your attention. Let's begin!
Omega Speedmaster '57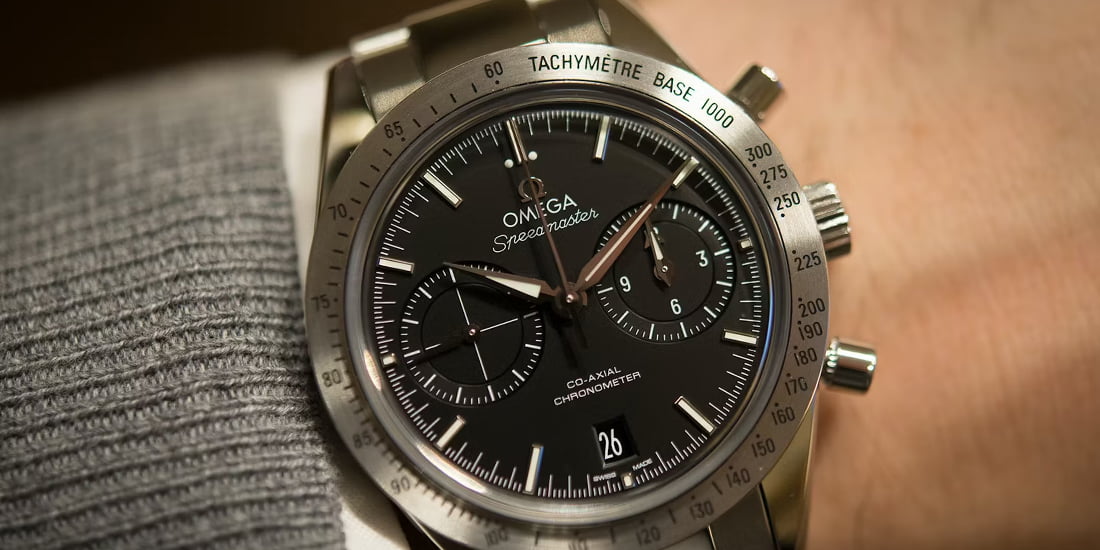 The Speedmaster Heritage lineup offers contemporary timepieces inspired by the various iterations the collection has witnessed throughout its long history. These watches often take the form of special, limited, or anniversary editions, preserving a rich heritage within their design. From timeless models like Speedmaster' 57 and the "First Omega in space" to the captivatingly unconventional Mark II, the range showcases an array of styles. With a diameter of 40.5mm, the case is crafted from stainless steel, complemented by a matching stainless steel bracelet. Powering the watch is the hand-wound Omega Caliber 9906 movement.
2. Omega Speedmaster Moonwatch Professional
The Moonwatch, a classic timepiece, offers a contemporary interpretation of the original Speedmaster worn by Buzz Aldrin during the historic moon landing 50 years ago. It retains its iconic charm with a hand-wound Omega Caliber that has been updated and enhanced in 2021. The model exudes both timeless elegance and significance. Many purists prefer the versions equipped with Hesalite crystal instead of Sapphire, and solid case backs rather than a transparent display window.
With a size of 42mm, the case is constructed from stainless steel, which seamlessly matches the stainless-steel bracelet. Powering the watch is the hand-wound Omega caliber 3861 movements.
3. Omega Speedmaster Chronoscope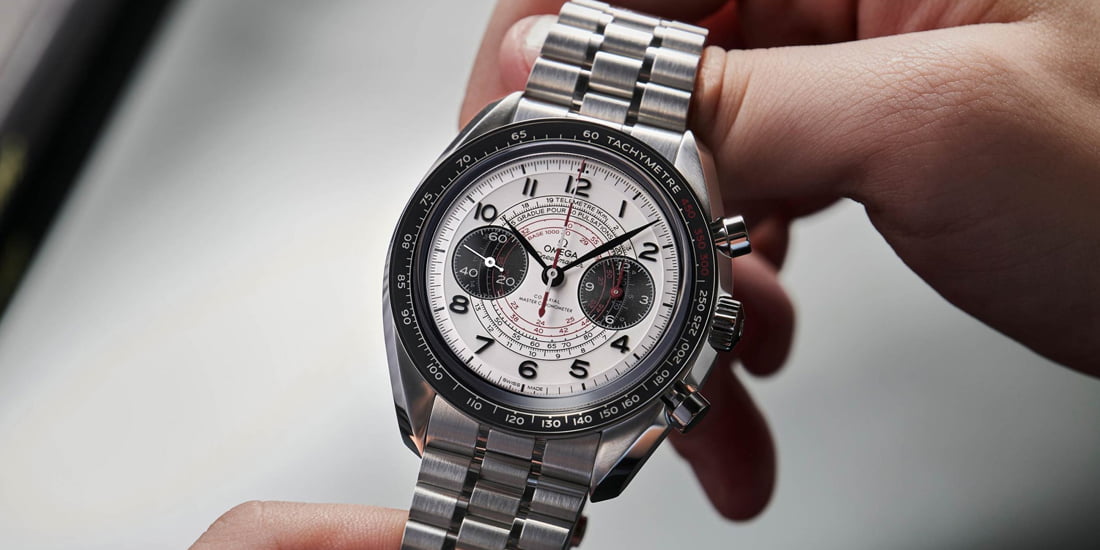 Blending vintage-inspired elements from the 1950s with contemporary technology, the Speedmaster with its oversized 43mm case exudes a unique charm. The distinctive "snail" style timing scales add to its retro appeal. Equipped with the advanced Co-Axial Calibre 9908 movement, this timepiece showcases a perfect fusion of classic aesthetics and modern functionality. A closer look reveals a dual-register chronograph featuring a running seconds register and a combined 60-minute and 12-hour recorder.
The case is available in either stainless steel or bronze gold, providing versatile options. The watch can be paired with a leather strap or a stainless-steel bracelet based on personal preference. Powering the watch is the automatic Omega Co-Axial Calibre 9908 movement.
4. Omega Speedmaster Dark Side of the Moon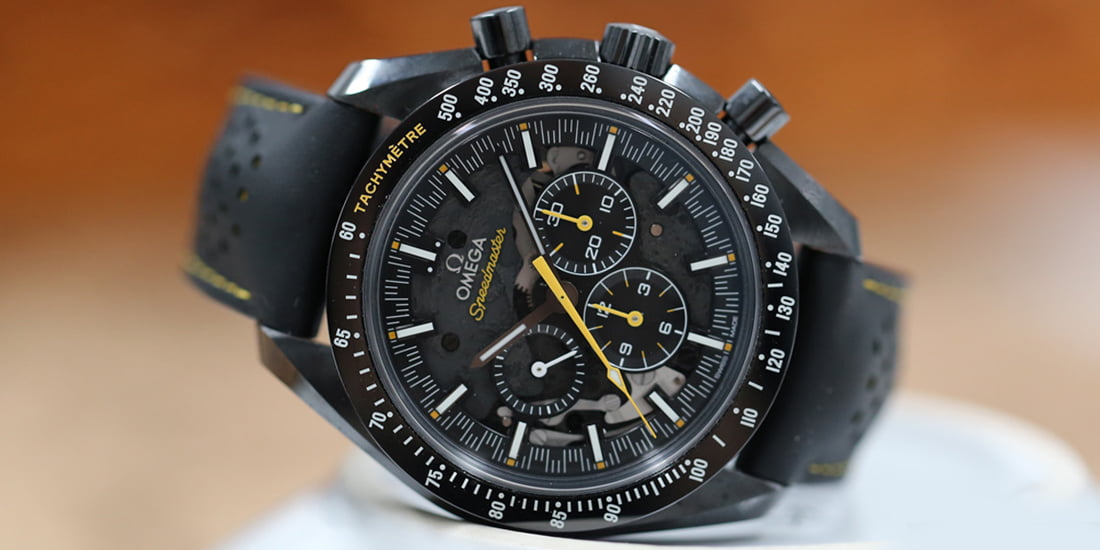 The Speedmaster Dark Side of the Moon collection embraces a contemporary aesthetic with its sleek design, increased dimensions, ceramic case, and high-performance co-axial movement. This collection effortlessly captures the essence of current trends.
With a size of 44.25mm, the case is meticulously crafted from black ceramic, showcasing a refined and durable construction. The watch is contemplated by a leather strap, adding a touch of sophistication. Driving its precise timekeeping is the automatic Omega Co-Axial Calibre 9300 movement, renowned for its exceptional performance and reliability.
5. Omega Speedmaster Skywalker X-33 Chronograph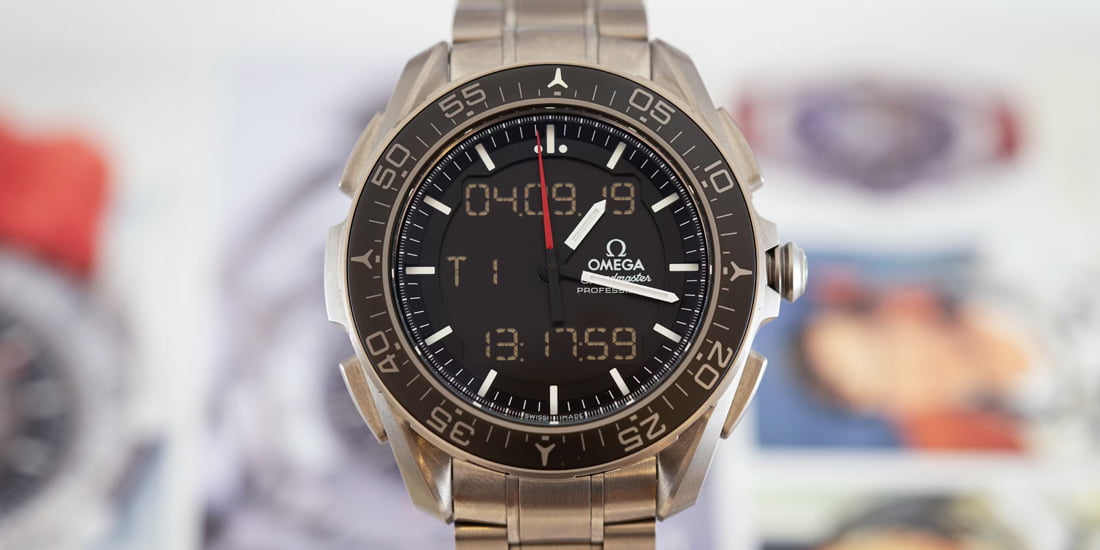 The Speedmaster instruments range stands apart from the rest of the brand's luxury watches, offering a unique and distinct experience. A modern reinterpretation of the X-33 released in 1998, the Skywalker X-33 exemplifies this notion. Primarily designed for astronauts, it incorporates a quartz-powered ana-Digi display, providing multiple time zones, three alarms, a chronograph, countdown functions, and various other features. While its appearance may deviate from the traditional Speedmaster aesthetic, it represents a natural evolution of the original Space Age timepiece.
With a size of 45mm, the case is expertly crafted from Titanium, ensuring a lightweight yet durable construction. The watch is contemplated by a titanium bracelet, further enhancing its space-inspired design. Powering the timekeeping functions is the precise Omega Calibre 5169 quartz movement, guaranteeing accurate and reliable performance.
The Seamasters
For decades, Omega produced dress watches that were essentially splash-proof under the Seamaster name, leading to confusion within the brand. Meanwhile, the Seamaster line also featured Omega's most durable and technologically advanced dive watches. Although this confusion still exists to some extent in the current lineup, Omega has significantly improved the waterproofness of the entire Seamaster line. Here are the key Seamaster models that you should be familiar with. Let's take a look at these:
1. Omega Seamaster Diver 300m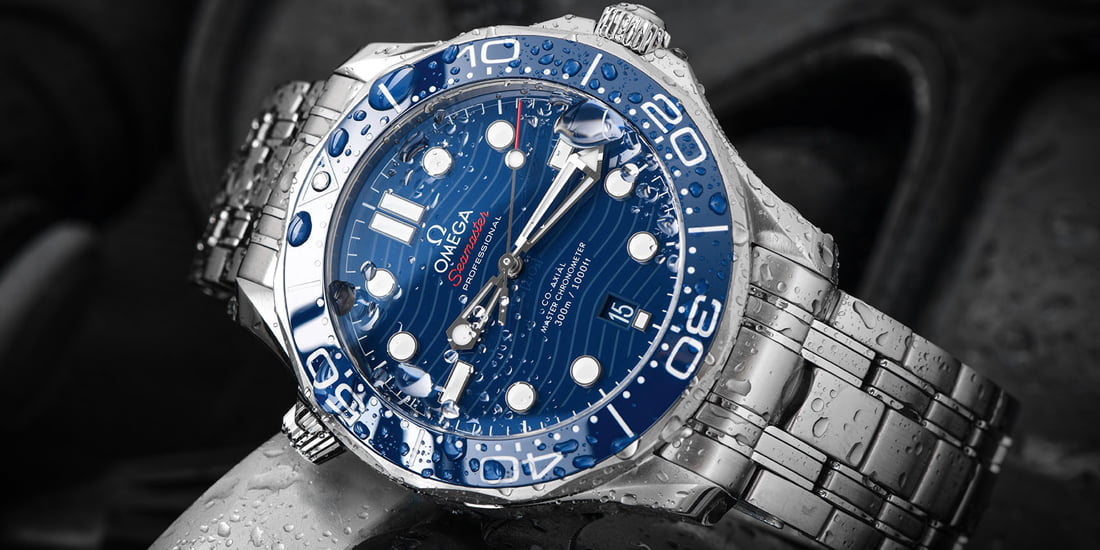 After James Bond's costume designer decided to outfit 007 with what the British Royal Navy was wearing during the 1990s, the Omega Seamaster 300 became widely known. This led to Bond ditching his Rolex Sub in favor of a quartz Seamaster 300, and more recently, Daniel Craig opted for a mechanical 300M. Despite a slow evolution, the Omega Seamaster 300M has maintained its appearance and specifications for several decades, making it one of Omega's most consistent models. The watch features a threaded helium escape valve at 10 o'clock, which adds a unique asymmetry, while the wave dial is best appreciated under a loupe. The collection includes various chronographs, precious metal versions, and more to choose from.
The watch has a size of 42mm and is made of stainless steel, with a rubber bracelet. It runs on the Omega Co-Axial Calibre 8800 automatic movement.
2. Omega Seamaster planet Ocean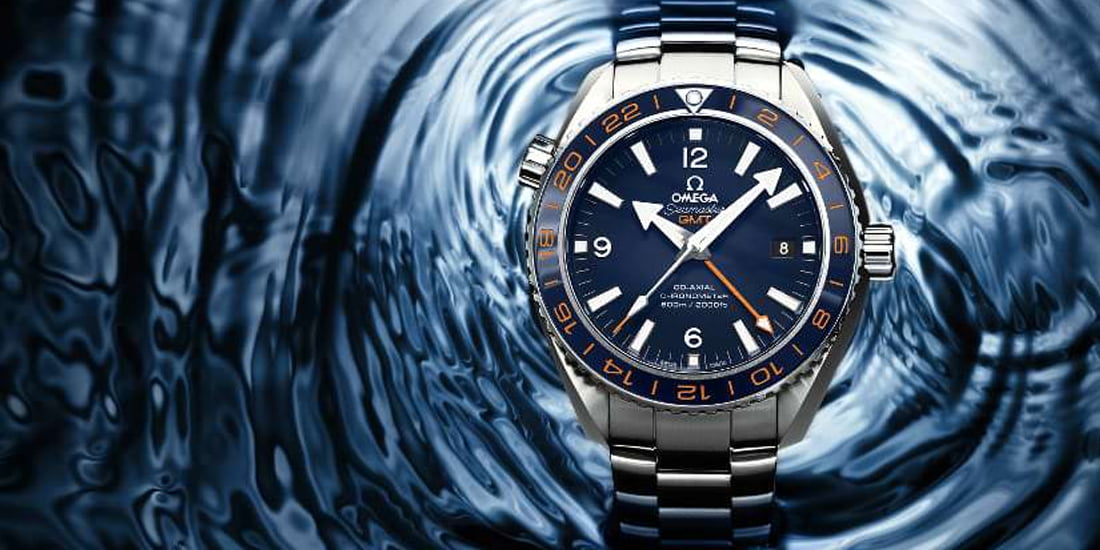 With a slightly larger size and double the water resistance of the 300M model, the Omega Planet Ocean is the brand's most formidable collection of dive watches. It comes in various versions, including a carbon-cased model, a GMT version, and a chronograph, among others. Orange has been a popular color for this collection, but with its wide range of options, you can find just about any look within the Planet Ocean lineup.
The watch has a size of 43.5mm and is made of stainless steel, with a nylon NATO bracelet. It runs on the Omega Co-Axial Calibre 8900 automatic movement.
3. Omega Seamaster Planet Ocean 6000M ultra-deep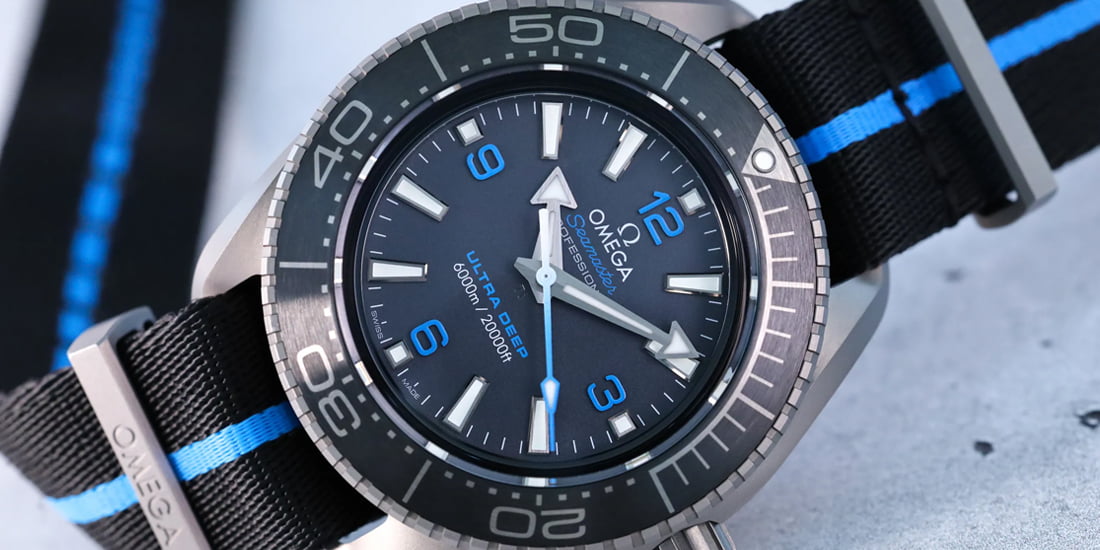 Although technically part of the Planet Ocean collection, the Ultra Deep watch deserves special attention. It has been rated and tested to a depth of 6,000m, making it the most water-resistant watch currently available. The watch comes in two main models: a titanium version based on Omega's 2019 prototype that broke a record and alternatively, you can opt for a version with a more traditional appearance, made from Omega's proprietary steel alloy known as "O-Megasteel," which is available in various variations.
The watch has a size of 45.5mm and is made of titanium, with a nylon NATO bracelet. It runs on the Omega Co-Axial Calibre 8912 automatic movement.
4. Omega Seamaster Aqua Terra 150M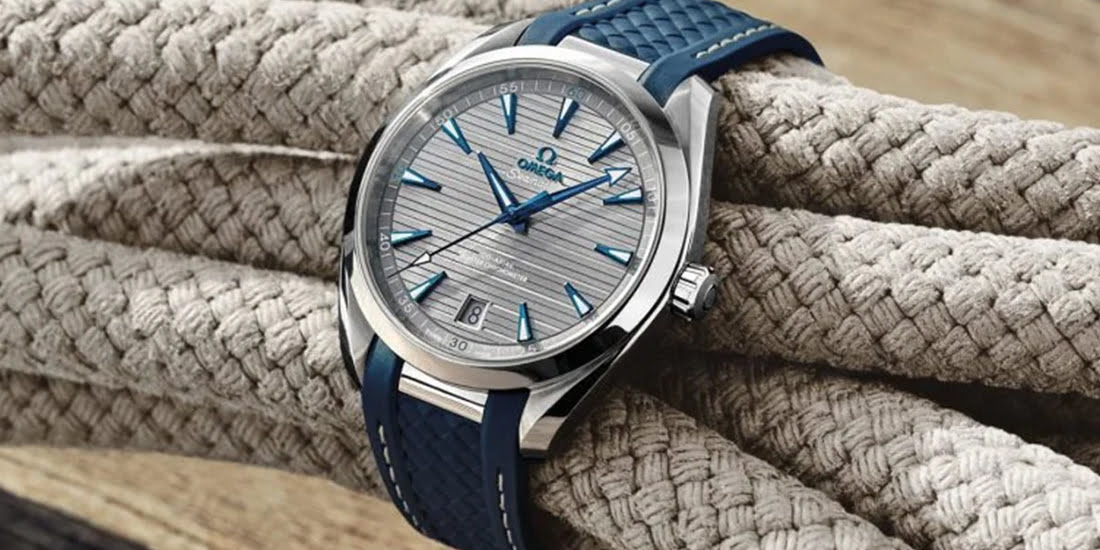 The Aqua Terra collection reflects the vintage Seamasters' inherent ambiguity between dress and sports watches, which is both its weakness and its strength. It is undoubtedly sporty and robust, yet sophisticated and professional enough to complement a business suit daily, making it a versatile option as your only watch. The line's appeal was enhanced with the addition of more colorful versions in 2022.
The watch comes in two sizes, 38mm or 41mm, and is made of stainless steel with a matching bracelet. The 38mm version runs on the Omega Co-Axial Calibre 8800 automatic movement, while the 41mm version uses the Calibre 8900.
5. Omega Seamaster 300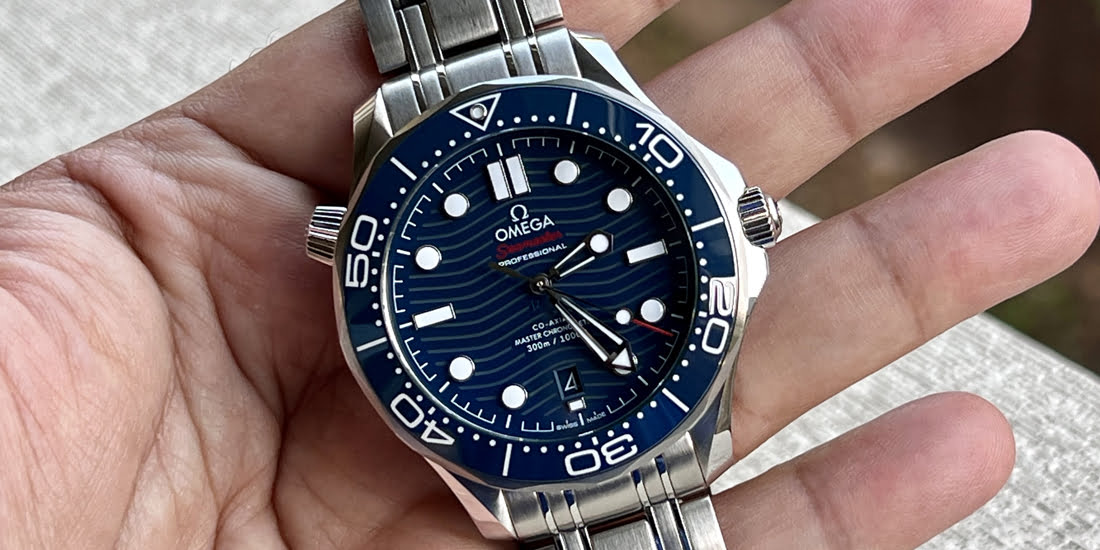 Similar to the Speedmaster, the Seamaster also has a Heritage range that includes the Diver 300. It is distinct from the more contemporary Diver 300M and pays homage to Omega's early dive watches. In 2017, Omega released the 1957 Trilogy, featuring the Seamaster 300, Railmaster, and an original-looking Speedmaster, to critical acclaim. The Trilogy's success prompted Omega to release these models individually, but they are frequently sold out due to their popularity.
The Diver 300 has a size of 41mm and is made of stainless steel with a leather strap. It operates on the Omega Co-Axial Calibre 8912 automatic movement.
6. Omega Seamaster Bullhead Chronograph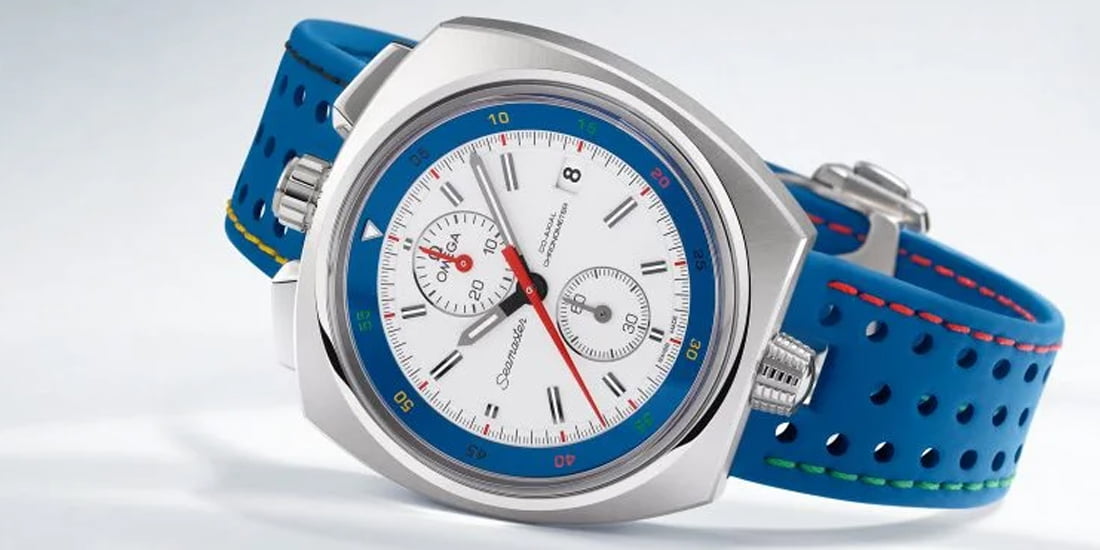 The Bullhead Chronograph Tribute watch is a nod to the original Bullhead Chronograph, a unique and somewhat peculiar-looking design from the 1970s. This watch took the Seamaster in a different direction and offers an option to the typical round-cased timepieces. Whether you appreciate its unconventional style or not, the Bullhead Chronograph Tribute watch adds variety to the Seamaster lineup.
The watch has a size of 43mm and is made of stainless steel with a leather strap. It operates on the Omega Co-Axial Calibre 3113 automatic movement.
7. Omega Seamaster Ploprof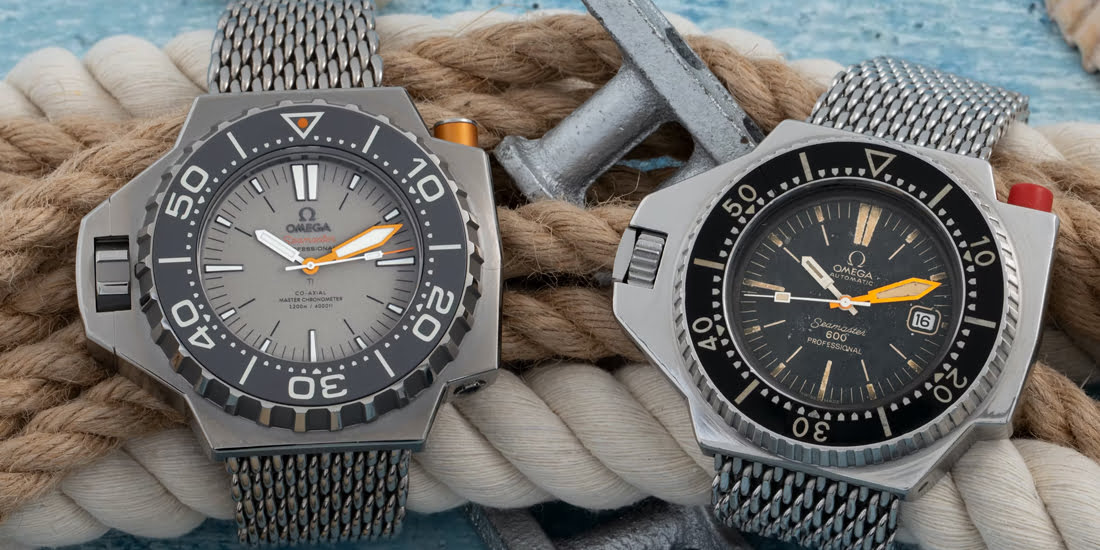 The fact that Ploprof continues to be developed astounds watch enthusiasts. It has a gigantic size of 55mm and is very massive. Nonetheless, it's a great example of how much less technology is needed nowadays to achieve super-deep waterproofness. However, for some, this behemoth resembling a can opener is simply stunning. It is important to note that it is currently only available in Titanium and that you must contact a boutique to get your hands on one. It operates on the Omega Co-Axial Calibre 8500 automatic movement.
The Constellations
Omega positions its dress watches in the Constellation collection, which comprises mostly vintage-inspired models referencing the 1940s and 50s. Many of these watches feature the iconic "pie-pan" dial. Additionally, the collection offers women's watches with diamond-encrusted designs. We have curated a list of essential Constellation models below for your consideration.
1. Omega Constellation Globemaster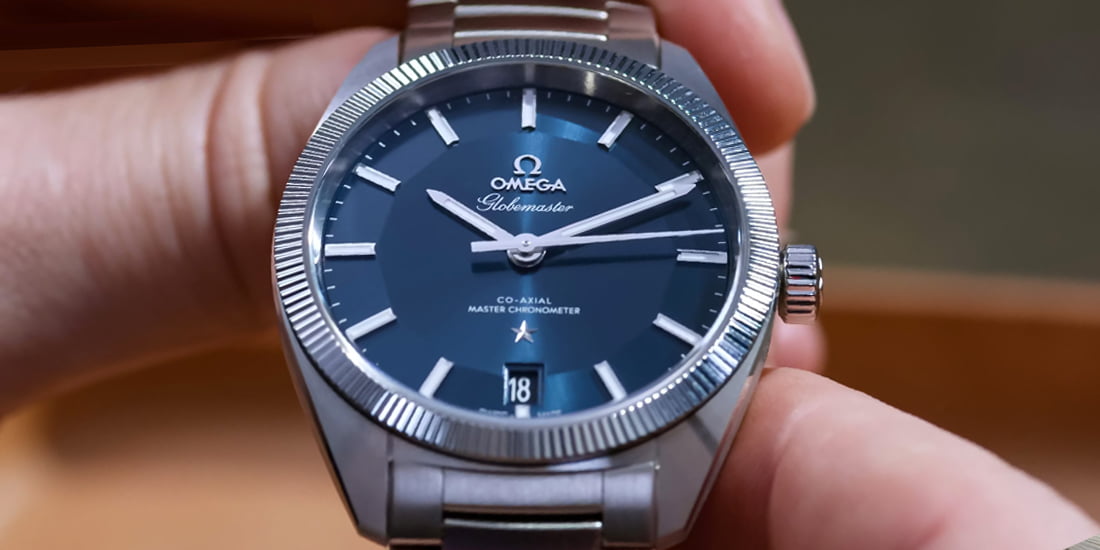 The Globemaster is a classic dress watch with a vintage look that has been updated to modern standards. The watch's design is inspired by the 1950s and is distinguished by its fluted bezel and "pie-pan" dial that harks back to vintage models. It is a versatile watch that can be paired with formal attire or worn as a stylish accessory in casual settings. The Globemaster is available in steel, precious metals, and an Annual Calendar version, which is a complex and fascinating version of the watch.
It comes in a modern size of 39mm, with a stainless-steel case and a comfortable leather strap. The watch is equipped with reliable and accurate Omega Co-Axial Calibre 8900 automatic movement.
2. Omega Constellation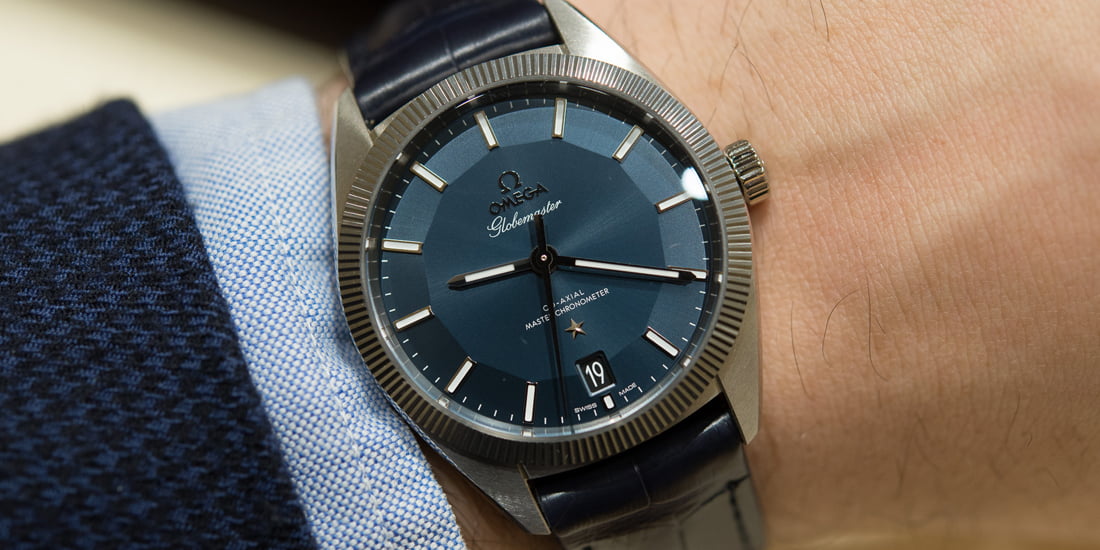 The Omega Constellation watch collection may be overlooked by some watch enthusiasts due to its quirky style, but it has a definite appeal to consumers who want a fancy timepiece. With a swanky vibe and a range of variations in different sizes, materials, and movements, the Constellation collection offers something for everyone.
One standout model in the collection is the Constellation with a 41mm stainless steel case and a leather strap. It features the Omega Co-Axial Calibre 8900 automatic movement, ensuring accuracy and reliability.
Overall, the Omega Constellation collection may not be for everyone, but it's worth considering if you're in the market for a high-end watch with a unique style.
 The De Villes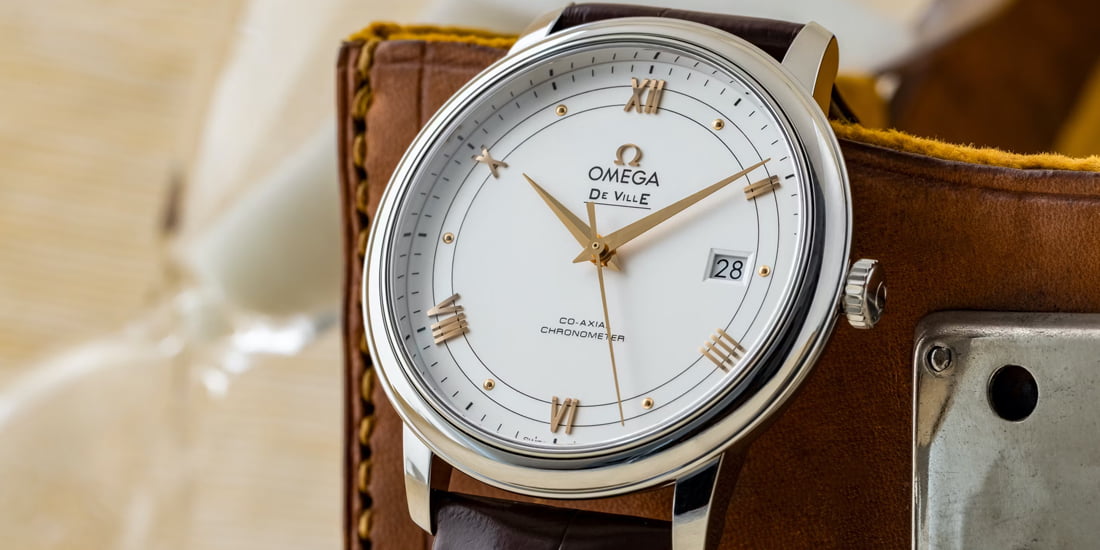 During the 1950s and 1960s, numerous vintage Omega watches featured the name "De Ville" on their dials, indicating a distinctively American influence. Present-day De Ville timepieces from Omega represent the epitome of elegance and sophistication, surpassing the mere classification of dress watches and venturing into the realm of haute horlogerie. For enthusiasts of vintage dress styles who are willing to invest in higher-price timepieces, this collection is sure to pique their interest. In fact, those who desire an Omega tourbillon can even find one within this selection!
1. Omega De Ville Trésor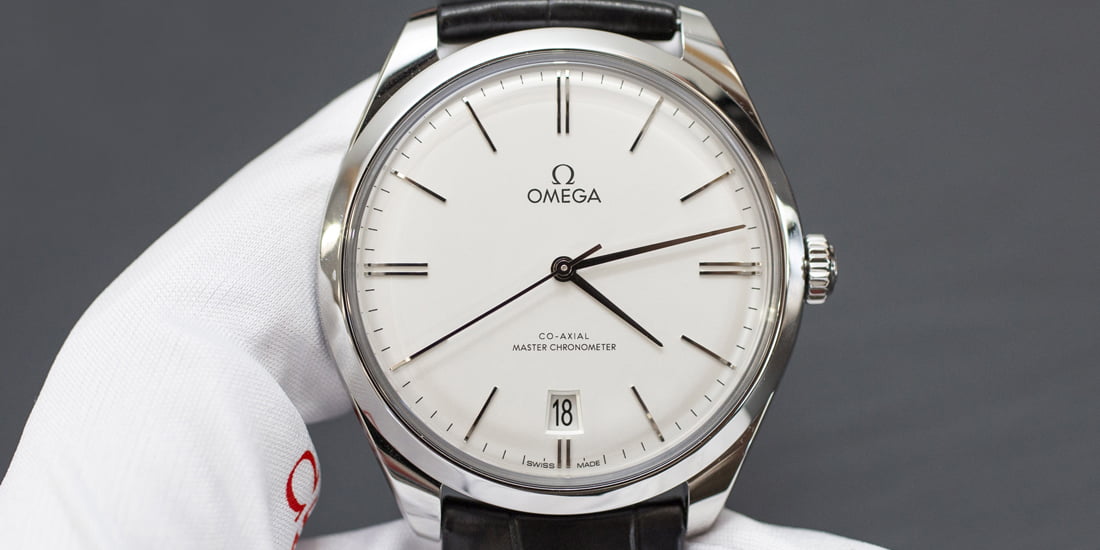 The Trésor sub-line within the collection showcases watches characterized by sleek cases, luxurious precious metals, and exquisite diamond embellishments. These timepieces are particularly suited for formal occasions, such as black-tie events and elegant evening gatherings. If you're in pursuit of a timepiece to complement your attire while indulging in celebrations with Dom Perignon and caviar on New Year's, the Trésor series is definitely worth considering.
Specifications:
Size: 40mm.
Case Material: Yellow gold.
Bracelet: Leather Strap.
Movement: Omega Co-Axial Calibre 8929 automatic.
2. Omega De Ville Hour Vision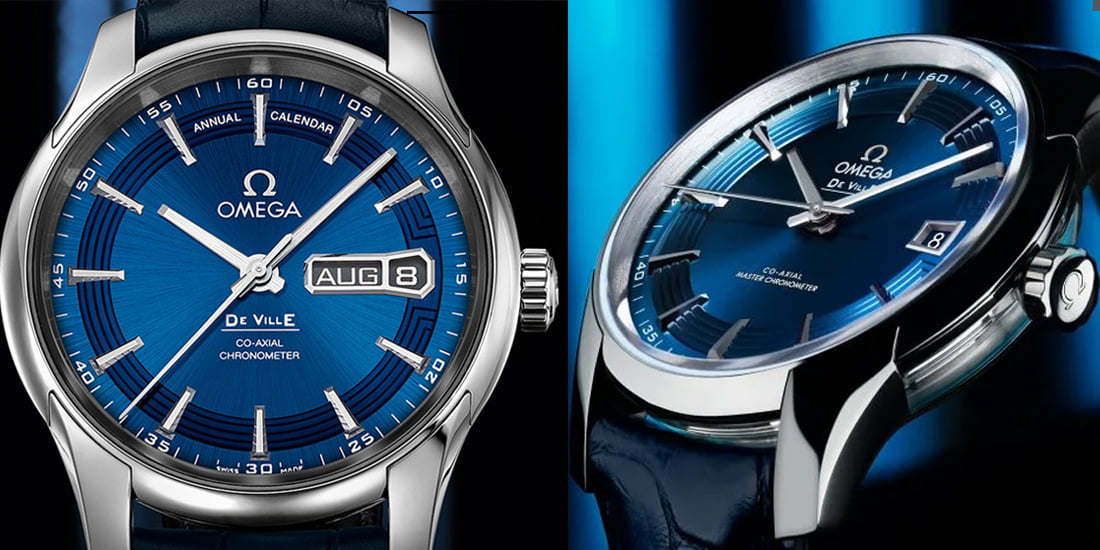 The Hour Vision line of watches exhibits an elegant Art-Deco style, with certain models, including this one, featuring a transparent sapphire case back that offers a unique glimpse into the intricate co-axial movement. With its captivating blue dial, the watch boasts a simple and harmonious design, making it an ideal everyday accessory or a distinguished complement for formal events. Furthermore, an annual calendar version of this watch is also available for those seeking additional functionality.
Specifications:
Size: 41mm
Case Material: Stainless steel
Bracelet: Leather Strap
Movement: Omega Co-Axial Calibre 8900 automatic.
This concludes our guide for Omega luxury watch models. For orders and information, feel free to come to us. We are available at your service 24/7!
Everything you need to know to purchase Patek Philippe watches

Similar to Rolex, Patek Philippe is an independent brand renowned for its rich heritage in Swiss watchmaking. The brand has taken a distinct and specialized path within the horological realm, leading to the creation of timepieces that many argue are the epitome of excellence in the watch industry. However, it is important to note that the term "best" does not imply perfection. Critics, often fueled by an inconsistent anti-luxury sentiment, tend to focus on the high prices associated with Patek Philippe watches, leaving little room for further critique. Nevertheless, regardless of personal preferences or preconceived notions, a Patek Philippe watch remains an undeniable marvel of human craftsmanship and ingenuity.
➢ Why Are Patek Philippe Timepieces So Expensive?
Patek Philippe is not an ordinary watch brand; it holds a special place in the hearts of collectors due to its exceptional approach to and execution of watchmaking. Widely recognized as a symbol of tradition and excellence, the brand has rightfully earned its reputation. Some may even consider their timepieces as works of art, although explaining the exact reasons behind their high prices can be complex. While the starting price for Patek Philippe watches is in the five-figure range, it's important to note that the brand is not alone in this price segment. However, it's not the initial price tag that Patek Philippe luxury watches are most renowned for; it's the extraordinary prices they achieve at auctions. In the Auction world, Rolex and Patek Philippe dominate, with Patek Philippe claiming the title for the most expensive watch ever sold. The brand has a devoted following among collectors, and it has even gained recognition in mainstream culture, primarily due to the highly sought-after Nautilus model favored by numerous celebrities.
➢ Patek Philippe Lineup
Let's get our heads around the major categories within the Patek Philippe collection.
Nautilus Collection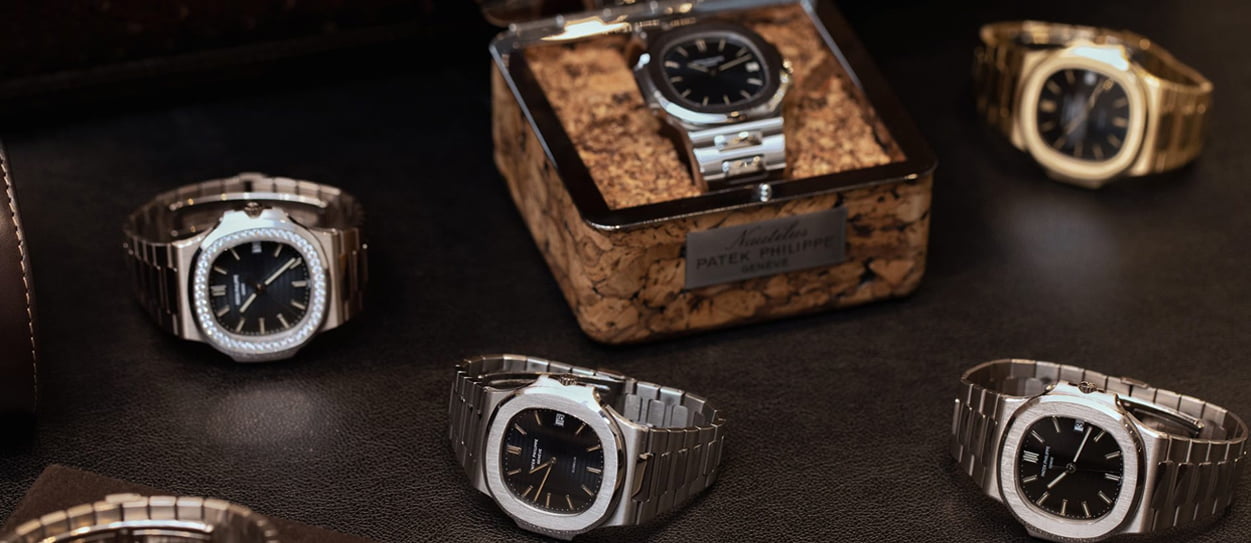 Patek Philippe, perhaps seen by some as initially following in the footsteps of Audemars Piguet's revolutionary Royal Oak, made a significant move by enlisting the renowned designer Gerald Genta in the 1970s. The outcome of this collaboration was the creation of the iconic Nautilus watch, which became a timeless symbol of the disco era. Presently, the demand for Nautilus watches is exceptionally high, to the extent that obtaining one often requires maneuvering through an extensive waiting list.
1. Patek Philippe Nautilus 5811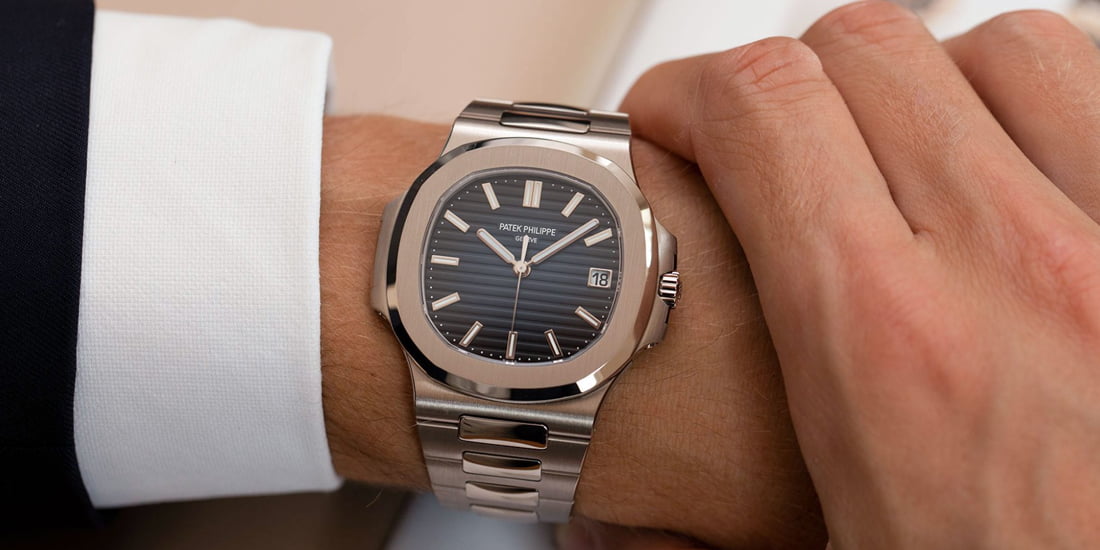 With a case diameter of 41mm and featuring a date complication, the Patek Philippe 5711 was an immensely popular luxury sports watch. However, the company decided to discontinue its production in 2021. To fill this void, Patek Philippe introduced the 5811, which closely resembles its predecessor but incorporates a two-part case construction. The 5811 maintains a 41mm width, just 1mm larger than the 5711. Currently, 5811 is exclusively available in white gold.
2. Patek Philippe Nautilus 5712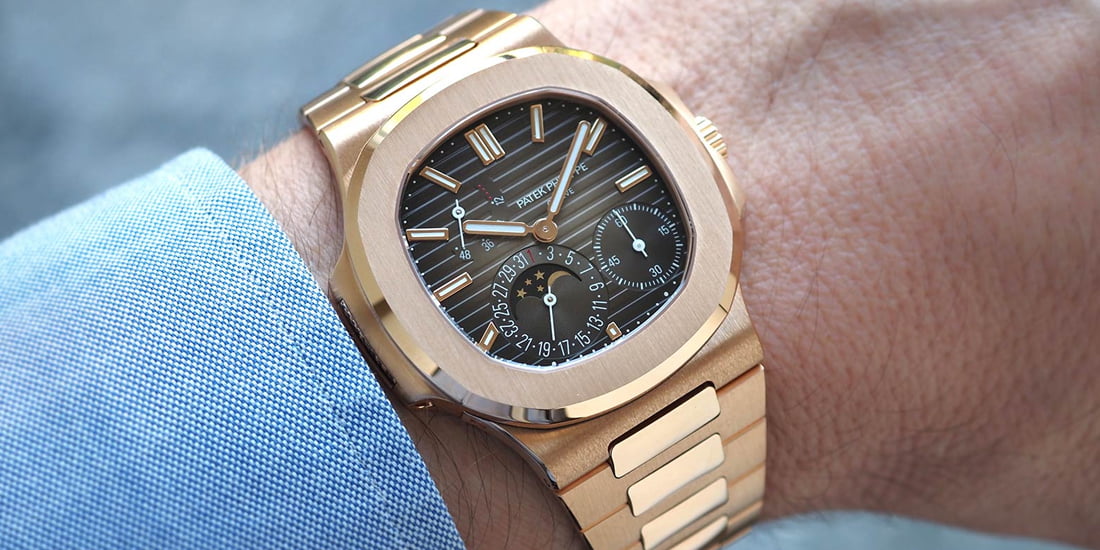 Featuring a case diameter of 40.5mm, the Nautilus offers a range of options, including different precious metals, a diamond-encrusted version, and various combinations of features. This particular model showcases a steel case and boasts a distinctive and eye-catching design with multiple complications. It features a moon phase and pointer date displayed on one subdial, seconds indicated on another subdial, and a power reserve gauge, all arranged asymmetrically in a visually striking layout.
3. Patek Philippe Nautilus Dual Time 5990
Featuring a case diameter of 40.5mm, the Nautilus offers an arrangement of complications that elevate its sporty character to a more intricate and luxurious level. The 5990 model, available exclusively in steel and rose gold, is a remarkable timepiece designed for adventurers. It incorporates a jumping local hour hand, allowing for easy adjustment to different time zones, along with Patek Philippe's distinctive AM/PM indicators for both local and home time. To add further complexity, the watch includes a flyback chronograph function, offering precise timekeeping and measurement capabilities. The exclusivity and desirability of this timepiece are reflected in its price, requiring an investment of over $100,00. Due to its high demand, joining the lengthy waiting list will provide ample time to save up for this exceptional watch.
Aquanaut Collection
Introduced in 1997, the Aquanaut was Patek Philippe's endeavor to provide a sports watch with a more accessible price point. Nonetheless, it remains an exceptionally stylish timepiece suitable for water activities, with a sportier aesthetic compared to the Nautilus. This sporty character is heightened by the striking numerals and the distinctive mid-century dial engraving, which contribute to its iconic appeal. It's worth noting that the Aquanaut can also be bejeweled with diamonds, adding a touch of luxury to its design.
1. Patek Philippe Aquanaut 5167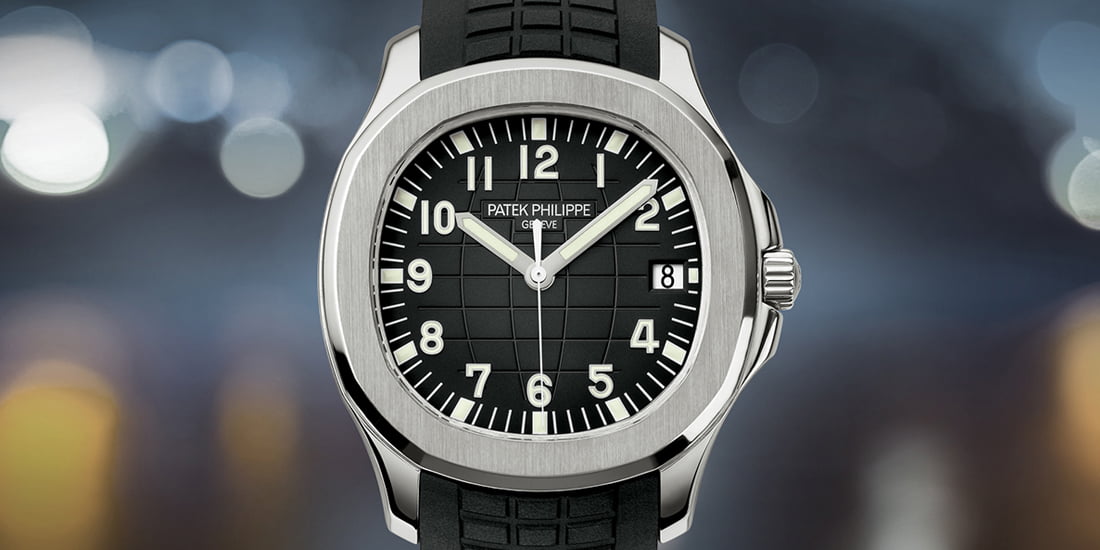 With a case diameter of 40mm and featuring a date complication, this particular Patek Philippe sports watch embodies a minimalist design. Despite its simplicity, we recommend experiencing it firsthand by wearing it on your wrist to truly appreciate its allure. The bezel exhibits a discrete 16-sided design, complemented by a combination of brushed and polished finishes that lend an elegant radiance to the steel and gold construction.
2. Patek Philippe Aquanaut Travel Time 5164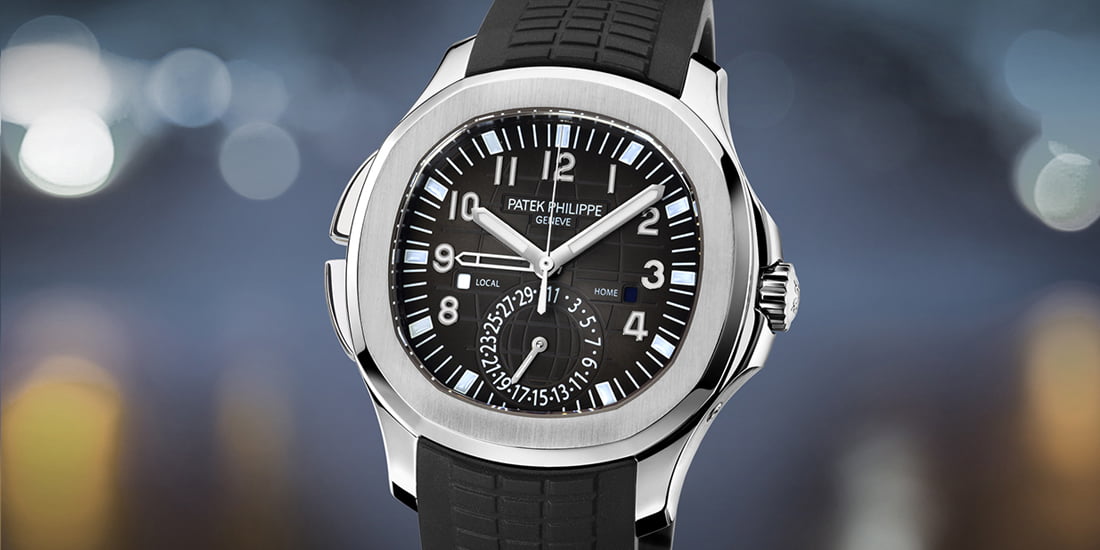 Featuring a case diameter of 40.8mm and equipped with dual time, jumping hour hand, and dual AM/PM indicators, the Aquanaut from Pate Philippe showcases an ingenious dual time complication. The date function is elegantly displayed on a subdial, while the dual AM/PM indicators enable seamless tracking of time zones around the world. With a slightly larger size than the aforementioned simpler model, this timepiece exudes a truly sporty feel, ensuring its suitability for active lifestyles.
Calatrava Collection
Amidst the challenges posed by the Great Depression, Patek Philippe introduced Calatrava as a response to the economic difficulties faced by individuals in America and Europe. Drawing inspiration from the Bauhaus movement, the Calatrava offered a simplistic and understated design, departing from the trend of complex wristwatches that were struggling to find buyers at the time. This innovative approach allowed Patek Philippe to establish itself as a forward-thinking and modern company. Remarkably, even today, these elegant timepieces continue to transcend time, maintaining a timeless appeal that remains as contemporary as ever.
1. Patek Philippe Calatrava 5227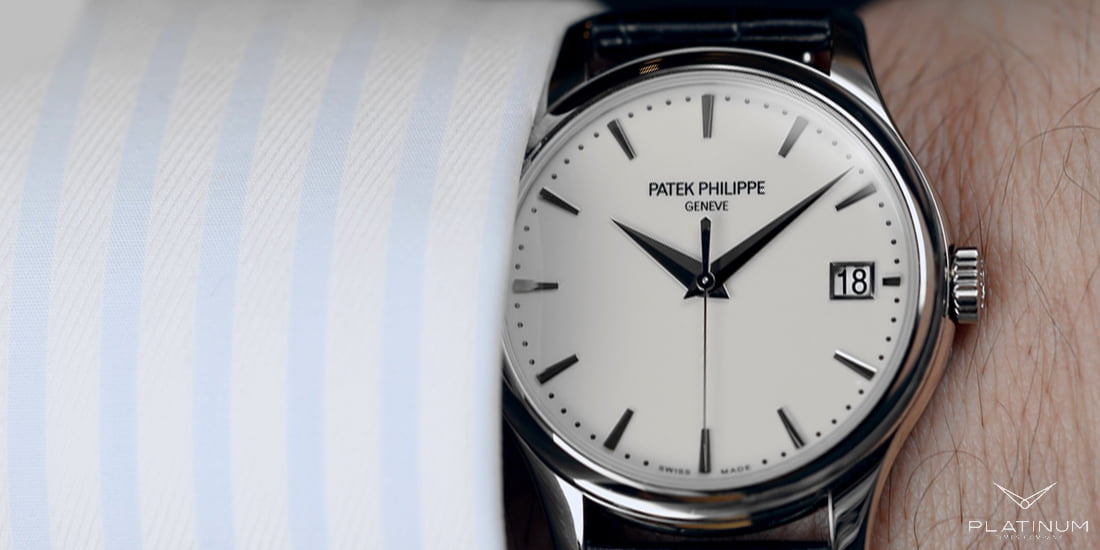 Featuring a case diameter of 39mm and without any additional complications, the Patek Philippe 5227 exemplifies the pure and minimalist design inspired by the Bauhaus movement, which serves as the foundation for the Calatrava line. With its simple three-hand time display and the absence of a date window, this watch embraces a clean and uncluttered aesthetic. Powered by an annually wound movement, the 39mm case pays homage to a time when watches were typically smaller in size. However, despite its dimensions, the 5227 possesses a commanding presence on the wrist, creating a significant visual impact.
2. Patek Philippe Calatrava "Clous de Paris" 6119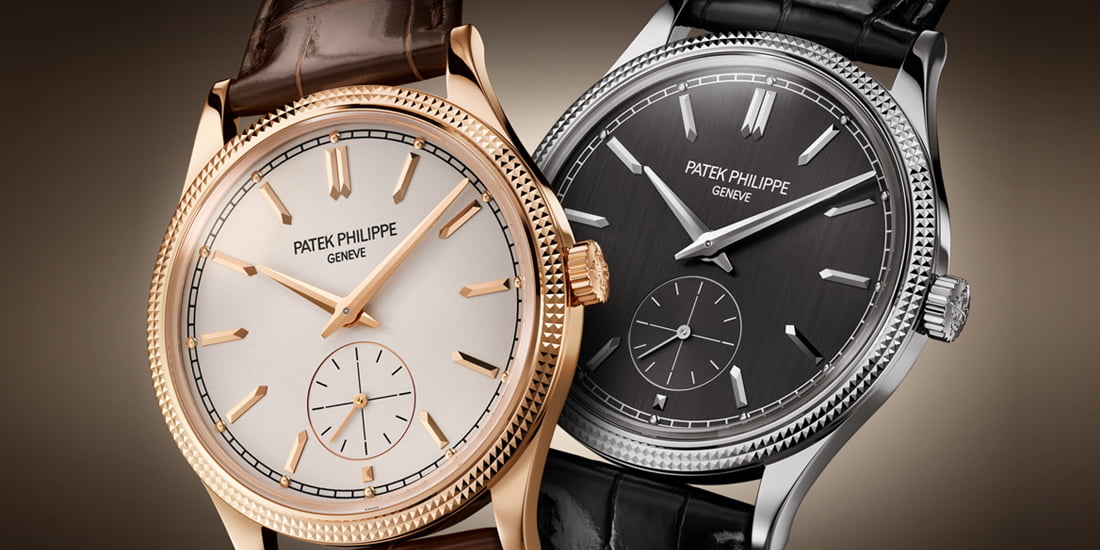 With a case diameter of 39m, this particular Calatrava model stands out with its larger size and eye-catching design elements. The hobnail-textured bezel and brushed dial add a touch of uniqueness and visual appeal to the watch, demonstrating that the Calatrava line can go beyond traditional conservatism. This modern interpretation showcases the brand's willingness to embrace innovative aesthetics while maintaining the essence of the Calatrava collection.
3. Patek Philippe Calatrava 6007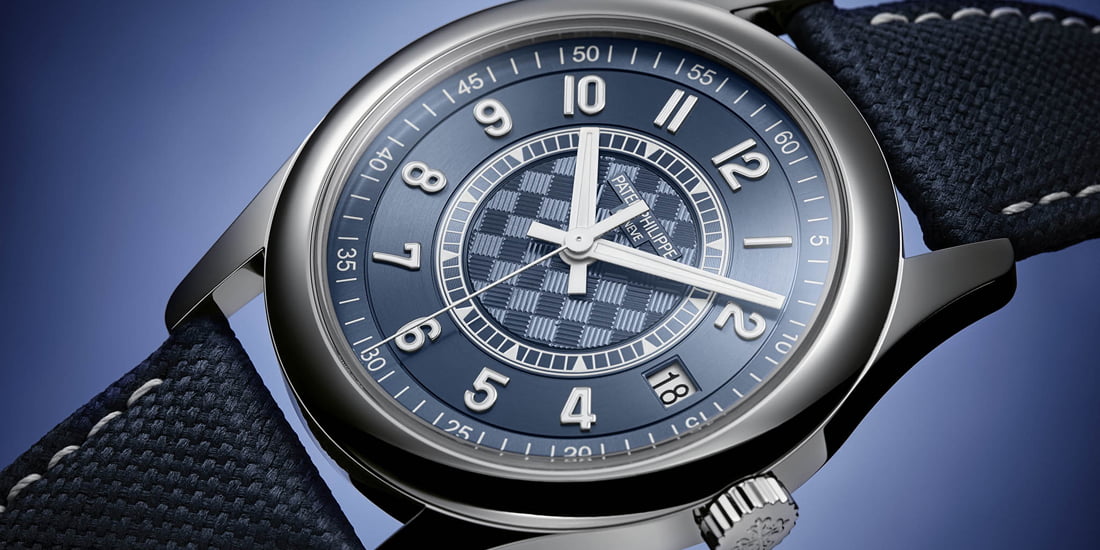 Featuring a case diameter of 40mm and equipped with a date complication, the Calatrava collection ventures beyond the realm of a traditional dress watch with the introduction of the 6007 model. Breaking free from conservative aesthetics, this timepiece embraces a sportier design approach. Available in three variations, each model showcases vibrant yellow, red, or blue accents. The dial and leather band feature carbon fiber-like embossed patterns, further highlighting the watch's dynamic and motorsport-inspired vibe. The Calatrava 6007 confidently bridges the gap between elegance and sportiness, offering a unique and captivating choice for watch enthusiasts.
4. Patek Philippe Complications Calatrava Pilot Travel Time 5524
With a case diameter of 42mm and featuring dual time, date, and dual AM/PM indicators, this particular watch finds itself in both the Complications and Calatrava series, creating a unique intersection. Introduced a few years ago as a sub-collection within the brand's offerings, this pilot's watch took the industry by surprise. Its design struck a chord with watch enthusiasts, leading to a global sell-out shortly after its release. Since then, Patek Philippe has continued to explore and expand upon this distinctive design, further solidifying its place in the brand's lineup.
Complications
The Complications line from Patek Philippe showcases a wide range of timepieces, many of which incorporate multiple additional functions beyond timekeeping. Currently, the collection boasts an impressive selection of 36 distinct models. To fully explore the entire lineup, we recommend visiting Patek Philippe's dedicated Complications page. However, we have curated a selection of representative models that are certain to captivate and pique your interest in these meticulously crafted and exquisite watches.
1. Patek Philippe Complications 5396R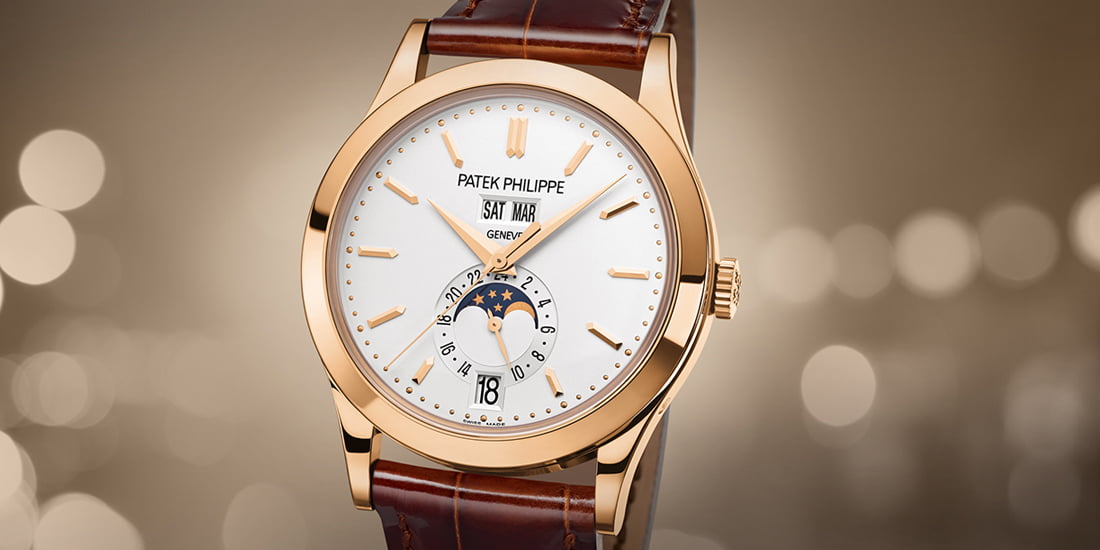 With a case diameter of 38.5mm and featuring a moon phase, an annual calendar, and a 24-hour hand, this automatic watch showcases a clever and well-thought-out design. It ingeniously incorporates a 240-hour hand within a subdial, while three distinctive apertures display the day, date, and month. This layout allows for easy and convenient timekeeping, ensuring that all essential information is readily accessible on the watch face.
2. Patek Philippe Complications 5905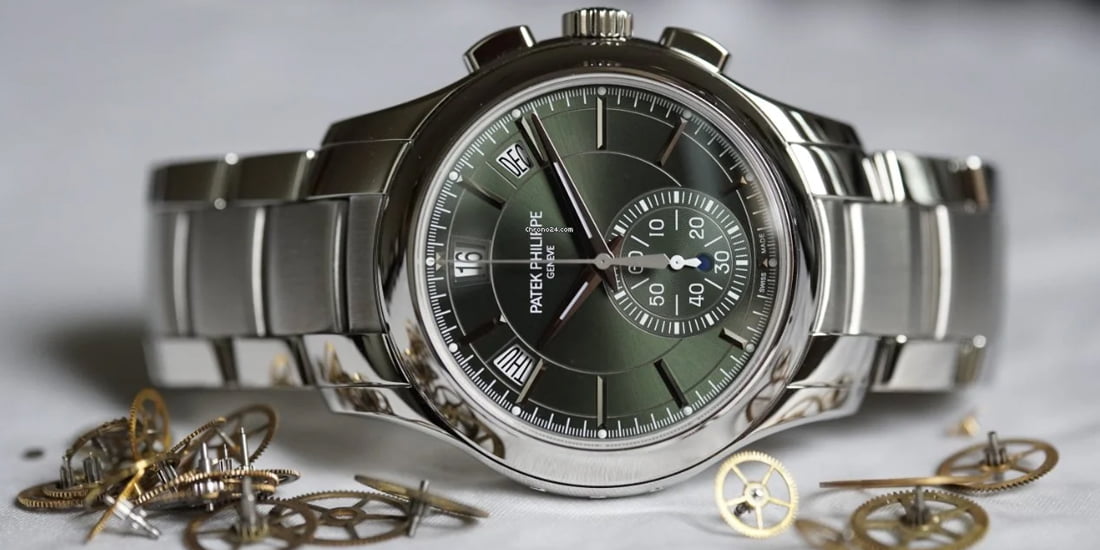 With a case diameter of 42mm, and equipped with a chronograph, annual calendar, and moon phase complications, this watch exemplifies the seamless integration of multiple functions while maintaining an elegant design. The inclusion of gothic-style apertures at the top adds a touch of uniqueness and symmetry to the timepiece. Its steel construction, coupled with a dazzling green dial, fills the watch with a sporty and contemporary feel. Released in 2021, this model stands out as a standout addition to Patek Philippe's collection.
3. Patek Philippe Complications World Timer 5231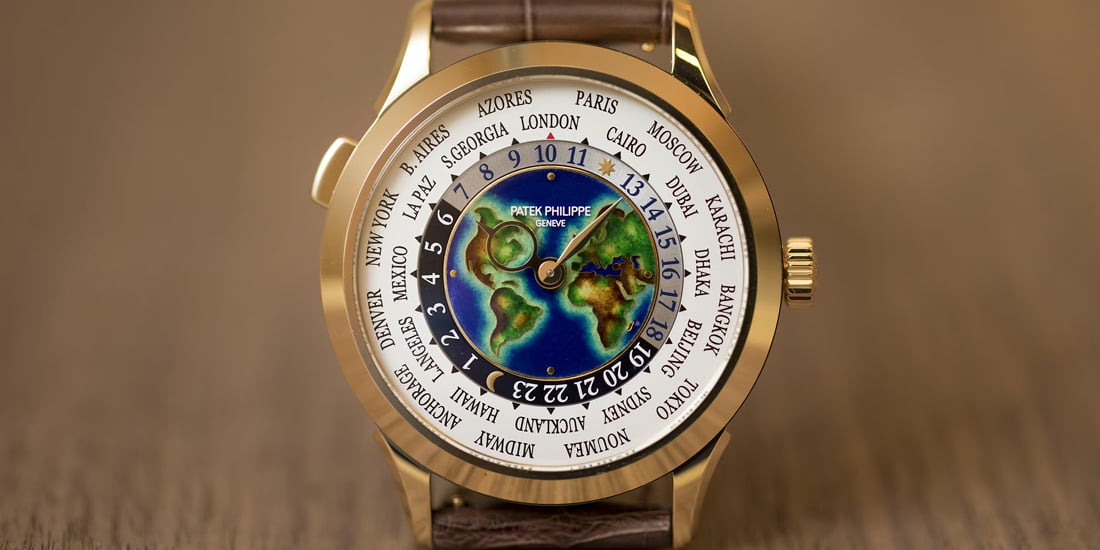 With a case diameter of 38.5mm, this watch features a world timer complication, allowing for dual-time functionality with the inclusion of various cities from around the globe. In addition, it offers a date display and AM/PM indication. What sets this timepiece apart is its exquisite hand-painted enamel map of the world. Showcasing meticulous craftsmanship and elevating its overall aesthetic. Despite its elevated design, this watch remains highly practical and serves as a functional and stylish companion for frequent travelers.
Few other major divisions in the Patek Philippe luxury watches include:
Grand Complications: In the world of watchmaking, a grand complication refers to a timepiece that incorporates multiple complications within a single watch. While there is no strict definition, most people agree that a grand complication typically consists of three or more complications, excluding the date mechanism. Some of the famous models in this category include:
Grand Complications 5204
Grand Complications In-line Perpetual Calendar 5236
Grand Complications 6300.
Golden Ellipse: Originally introduced in 1968, these distinctively shaped and ultra-thin oblong watches have made a comeback in a larger updated size. They are renowned for their elegance and simplicity, representing some of the most refined time-only watches ever crafted. Golden Ellipse 5738 watch is one of the renowned models under this category of Patek Philippe.
Gondolo: This collection carries a historical significance and features a watch with unique and eye-catching shapes. The Gondolo lineup now predominantly comprises square or cushion-shaped cases adorned with exquisite jewels, catering to the preferences of women.
Twenty 4: Designed for women, the Twenty 4 collection offers a range of dress watches. Available in sizes 36mm and smaller, these watches come in both round and square shapes, and can be powered by mechanical or quartz movements, offering versatility and style options for every wearer.
This concludes our guide for Patek Philippe luxury timepieces. For more information regarding this brand, please come to us. We would love to help you!