Luxury diamond watches not only tell times but also represent class and sophistication. The world's diamond watch brands have earned their reputation by manufacturing timepieces that are not only functional but also aesthetically pleasing. Here we will discuss some of the world's most significant brands for diamond watches. Let's begin!
Patek Philippe: A Swiss brand, renowned for producing the most expensive and complex timepieces in the world. The producer's diamond watches are no exception, with stunning designs that feature brilliant-cut diamonds, baguette-cut diamonds, and even rare-colored diamonds. In a nutshell, Patek Philippe diamond watches are a statement of wealth, craftsmanship, and impeccable taste.
Audemars Piguet: This Swiss watchmaker is producing dazzling and complex timepieces since the beginning. Its diamond watches are known for their intricate designs and exceptional craftsmanship. The starting price for AP's diamond watch is $20, 000 which rises with the type of material.
Rolex: Rolex needs no introduction when it comes to luxury watches. The brand's diamond watches are popular for their timeless design, precision, and durability. They go through the hands of Rolex's in-house gemologists and gem settlers, who are trained in the art of high jewelry.
Chopard: Founded in 1860, Chopard is a Swiss manufacturer of luxury watches and jewelry. The brand's diamond watches are known for their innovative designs and attention to detail. Each of its timepieces features the finest quality diamond, guaranteeing that each piece is a work of art.
Cartier: Established in 1847 in France, Cartier is now one of the most popular luxury watch brands in the world. The producer uses the best-grade diamonds in its luxury timepieces, shedding elegance, quality, and attractiveness. Not to mention that the Cartier watches hold value and may even increase in value sometimes.
Bulgari: It is an Italian seller that is renowned for its exquisite jewelry and watches. Its diamond watches feature bold and striking designs with large and radiant diamonds. For people searching for diamond watches with classic yet innovative looks, Bulgari is sure to go for!
The bottom line is that luxury diamond watches are a statement of wealth and sophistication. The aforementioned brands have earned their reputation through years of hard work, attention to detail, and exceptional craftsmanship. So, whether you're looking for a classic or a contemporary design, now you know which brand of diamond watch you should go for!
LEADING SUPPLIER OF DIAMOND WATCHES IN DUBAI, UAE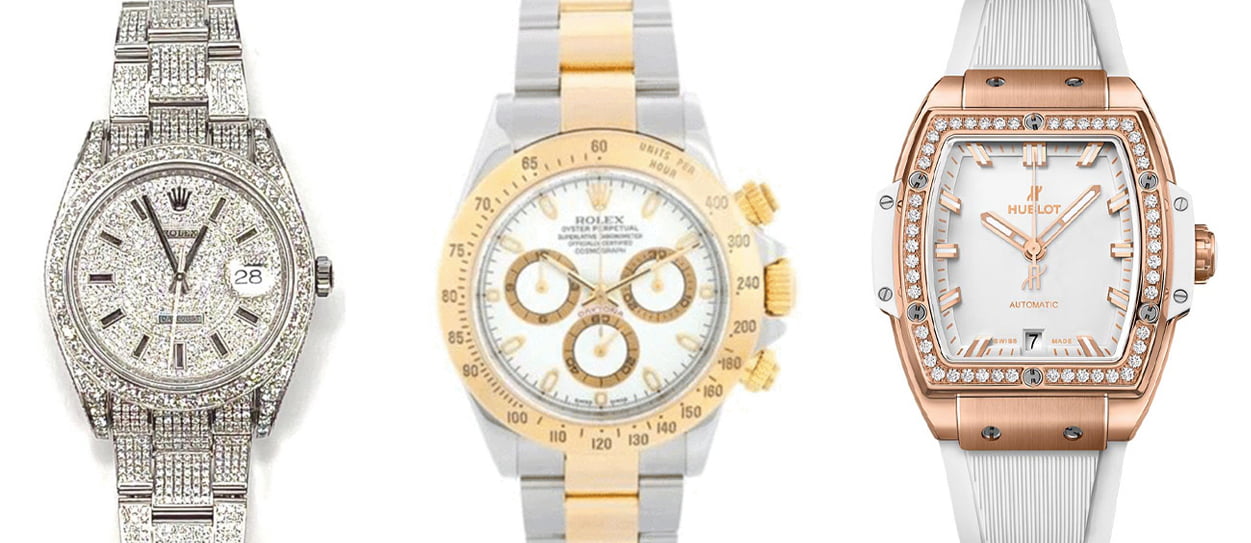 Dubai is an ideal place to make a diamond watch purchase as it offers several reliable sellers with Platinum Times and Luxury Souq being two of the most prominent ones. Read below to know more about these sellers.
About Platinum Times:
Platinum Times Company is a leading seller of diamond watches in Dubai, famous for its massive collection of expensive watches from popular brands such as Patek Philippe, Rolex, Cartier, Audemars Piguet, and many more. The supplier's portfolio of diamond watches includes classic and modern styles, with exquisite diamond deposits. The price of these watches varies depending on the grade and number of diamonds used, brand, material, features, etc. With our showroom located in Downtown Dubai, the buyers can see the timepieces closely, ask for any queries, and can also ensure whether the timepiece looks good on their wrist or not. Furthermore, the team at Platinum Times is known for its service in maintenance, customization, and watch repair, making it a go-to destination for luxury watch enthusiasts.
About Luxury Souq:
Luxury Souq is another reliable dealer of Diamond watches in Dubai, UAE. The supplier features a diversified collection of timepieces, thus having something for all. From classic styles to modern designs, one can easily get a timepiece according to his/her taste from Luxury Souq. The company offers various watch services along with online and offline shopping experiences to its clients. With its showroom located in Jumeirah, you can go and see the timepieces yourself.
Both luxury watch dealers offer online shopping options to their clients with their websites providing a convenient way to surf and buy their collections from anywhere in the world. You can choose from a wide range of diamond watches, place orders, and have them shipped globally! Happy shopping!