Platinum Times– A trusted source for luxury timepieces in Dubai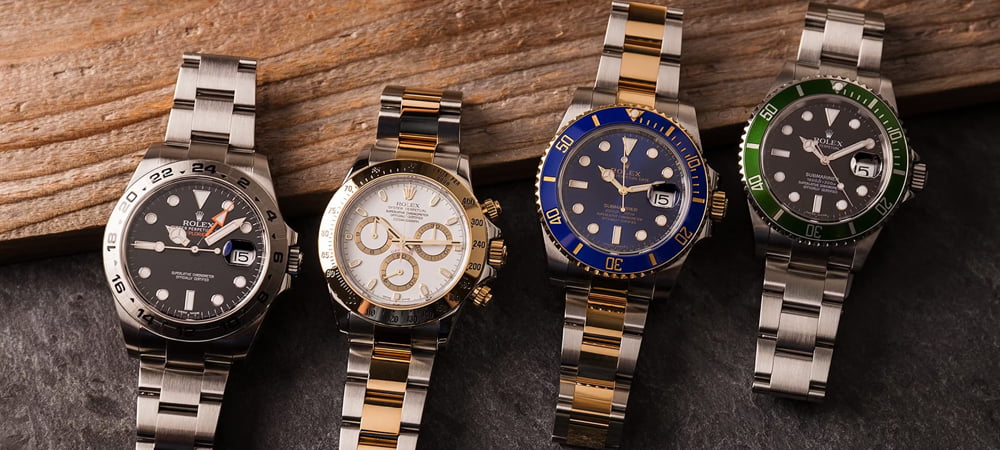 In this blog post, we'll present you with the top 10+ certified pre-owned watches available in Dubai in 2023. Each of these exquisite timepieces has been carefully analyzed for quality, craftsmanship, and value, before being put on display. Whether you are an aspiring enthusiast or a seasoned watch collector, here you are sure to find the perfect timepiece that suits your style and preferences. Let's dive into our curated list of used watches!
Rolex Submariner Date: This model of Rolex has been winning people's hearts since its introduction into the luxury watch industry. It's an iconic dive watch manufactured with precision and water resistance up to 300m. With its luminescent hour markers, black dial, and sturdy stainless-steel construction, Submariner Date exemplifies durability and elegance.
Omega Seamaster Planet Ocean: As a diver's watch, Seamaster Planet Ocean is a combination of exceptional functionality and a sleek design. This model of Omega features a helium escape valve, a black ceramic dial, and water resistance up to 600m, making it an ideal and reliable companion for underwater ventures.
Tag Heuer Carrera Calibre: The Carrera Calibre by Tag Heuer blends cutting-edge technology with timeless style. With its black dial, stainless steel case, and chronograph function, this watch captures the essence of the iconic Carrera collection, appealing to luxury watch fans and motorsport enthusiasts alike.
Patek Philippe Aquanaut: A perfect fusion of horological and sporty elegance, the Aquanaut model by Patek Philippe features an octagonal case, a comfortable rubber strap, and an embossed dial, which gives the watch a decent look that is suitable for any occasion.
Audemars Piguet Royal Oak: The black dial and rubber strap, bold and robust design, and stainless-steel case of Royal Oak makes it a versatile watch that exudes power and confidence.
Breitling Navitimer: Navitimer was manufactured with pilots in mind. It's a timepiece by Breitling that combines class with functionality. Its signature circular slide rule and chronograph feature along with a black dial and stainless-steel case make it a timeless choice for aviation enthusiasts.
IWC Portugieser Chronograph: This model shows the brand's commitment to aesthetics and craftsmanship. Its blue hands, silver dial, and chronograph sub-dials create a captivating look, while the stainless-steel case adds durability to its' design.
Cartier Tank Solo: Cartier Tank Solo luxury watch is a true embodiment of simplicity and sophistication. Its silver dial with Roman numerals, leather strap, and rectangular case make it an elegant watch suitable for both formal and casual occasions.
Jaeger- LeCoultre Master Ultra-Thin: This model is the true face of Jaeger-LeCoultre expertise in creating slim and elegant timepieces. People looking for luxury watches with minimalist designs should consider Master Ultra-Thin and we guarantee that you'll never regret your decision.
Hublot Big Bang: Big Ban is a unique and eye-catching luxury watch by Hublot. The timepiece features a denim-inspired dial, a black ceramic case, and a comfortable rubber strap. With its fusion of bold design and materials, it's a watch that stands out from the crowd.
So, whether you are seeking an iconic Omega Seamaster, a sophisticated Patek Philippe Aquanaut, a legendary Rolex Submariner, a refined IWC Portugeiser, a bold Audemars Piguet Royal Oak, a functional Breitling Navitimer, a slim Jaeger-LeCoultre Master Ultra-Thin, an elegant Cartier Tank Solo, or a unique Hublot Bing Bang, Platinum Times company offers a range of options to cater to your discerning taste.
When you buy a second-hand watch from Platinum Times, you can be sure of the quality and authenticity of the timepiece. Each timepiece undergoes various inspection and certification processes to ensure it meets our high standards.
You can either place your order online or visit our showroom in Dubai and explore our diverse collection of certified second-hand luxury watches. Our experienced team is ready to assist you in finding the timepiece that perfectly reflects your style and also possesses the essence of luxury horology.
DISCLAIMER: The availability of specific luxury watches in this blog may vary over time. Kindly visit the Platinum Times website or contact us for the most up-to-date information on the available certified pre-owned watches in Dubai 2023.
WHAT ARE THE BEST QUALITY WATCH BRANDS?
When it comes to the best quality luxury watch brands, Rolex, Cartier, Patek Philippe, Omega, Audemars Piguet, and Jaeger-LeCoultre are at the forefront. These manufacturers have consistently demonstrated their commitment to excellence, producing watches that combine technical precision, impeccable craftsmanship, and enduring style. At Platinum Times, we are proud to offer an immense collection of premium watches from high-end brands, making sure that our clients get only the best and second to none!